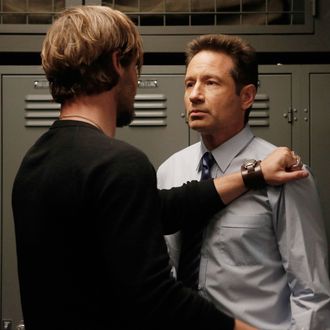 Sorry, still Mulder.
Photo: Vivian Zink/NBC
All right all you Aquarius-heads, get ready for some season two news. Ready? No? We'll wait. Okay! The Aquarius season two premiere will be two hours long, and commercial-free. Like a movie! Way to stick it to Charles Manson! (Manson notoriously loves commercials, we're guessing.) According to Variety, "The only stoppage will be a one-minute local news break during the show's second hour." So save your pee 'til then! Can't wait to find out the answer to the age old question: Will anyone sit still for that long?