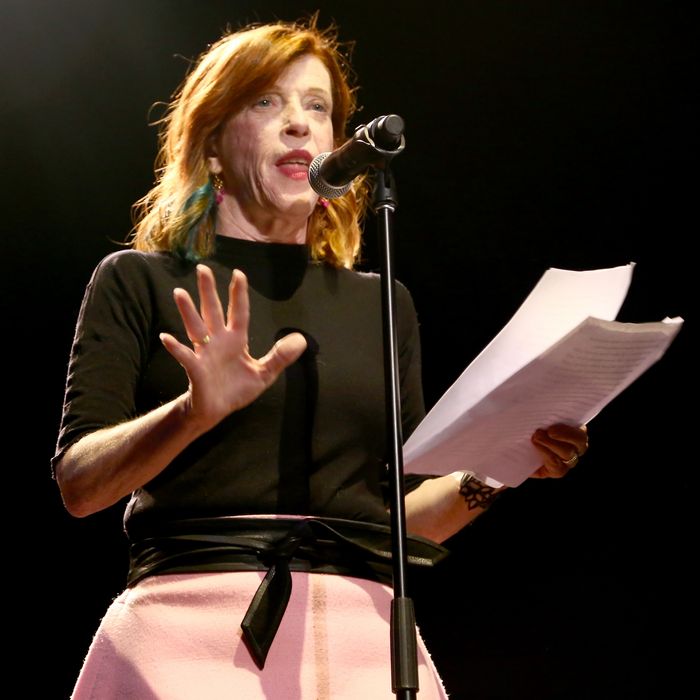 Susan Orlean.
Photo: Justin Baker/Getty Images
Even in a time of playwright-showrunners and poet-directors, the prospect of a movie deal remains, for the average writer, a source of fervent prayer and deep confusion. So when the roving annual conference of MFA writers known as AWP (for "Association of Writers and Writing Programs") came to Los Angeles this week, organizers wanted to illuminate the folkways of the local industry. Among the fair's hundreds of panels was a generous helping of talks on the occasionally lucrative, sometimes cataclysmic, and usually ridiculous clash of civilizations known as adaptation. (Or, in the case of panelist Susan Orlean, Adaptation.)
For most of the featured writers, the journey to Hollywood began with a producer's interest, but gained momentum with the benevolent attention of a star. Rachel Weiss fell in love with Jennifer Gilmore's adoption novel, The Mothers; James Franco yearned to play memoirist Stephen Elliott in The Adderall Diaries; Salma Hayek took a shine to Domingo Martinez's border-town memoir The Boy Kings of Texas; Ethan Hawke's wife pushed him to make Eleanor Henderson's Ten Thousand Saints. And most famously, Reese Witherspoon snatched Cheryl Strayed's memoir Wild after starting a production company to find herself meaty roles. "In Hollywood they call them complex women," said Strayed, on a panel with Elliott, Gilmore, and Henderson. "In my life, I call them women."
Such A-list interest guarantees absolutely nothing. The story of adaptation is the story of failure, and the sooner you learned that, the better. A stalled project might even be the best scenario. "The secret of writers is we really don't care if they make it as long as they pay us," said Jess Walter, whose Beautiful Ruins and Citizen Vince are now on their second and fourth directors, respectively. Options are usually temporary, and each new option on a stalled project means another infusion of cash. "It can turn into an annuity," said Orlean, Walter's fellow panelist. "What I wouldn't give to have the book that everyone wants to option and no one ever makes."
The writers with the happiest stories tended to be those, like Strayed, who didn't write the script. Others, like Domingo Martinez, couldn't resist the blandishments of producers — "These people are lovely! They sent for a car and paid for my drinks!" — and discovered the pitfalls of screenwriting. Martinez was tasked with turning his true story into a fiction that kept drifting further from reality — sixty pages "written in blood" for HBO that may never see the light of day. "It was basically overriding my memories," he said. He was asked to change the setting from Texas, alter silly facts like his dog's name (but not his own). "What ended up happening was about a year and a half of utter humiliation."
One of his lead producers was Jerry Weintraub, whom Martinez compared to "Elvis in the white suit — this absolute charismatic force of ego in Hollywood. And then he died. And so did the project." HBO still owns Martinez's script, and has the right to sell it somewhere else.
Orlean, an enthusiastic chronicler of weird subcultures in books and articles, seemed to revel in her own horror stories. "I'm uncomfortable with writers who complain too bitterly about how horribly they've been treated in Hollywood," she said. "It's like watching a lot of crazy people. It's nuts, it's so funny, and the really good thing is that it makes the publishing world seem so sane and so linear." (Walter had a different but equally cheery take: "Hollywood is a nice place where they tell you how smart you are and give you money, so it's the opposite of publishing.")
Orlean has had two works successfully adapted — The Orchid Thief (which became Adaptation) and Blue Crush. She called that "a remarkable batting average" amid a few intellectual property snafus. A Broadway-musical version of one of her stories foundered on the question of how to share the profits of any potential action figures — not a big concern for her. A feature about racing pigeons became a casualty of the Dreamworks/Paramount crackup, after which her effort to buy back the rights failed only because "they wouldn't release the Hindi television rights." When a studio outbid several others for her story about the girl group the Shaggs, one of the also-rans flew to New Hampshire and bought the characters' life rights, dooming the project out of spite. Orleans has only written one screenplay: A collaboration with her husband, commissioned over a meal with a producer, about their meet-cute romance. In the months after she gave birth to a baby, they fought intense sleep deprivation to dramatize the story of their first date. The rom-com has not been greenlit.
The lucky few who make it into production get to see their often-true stories warped and reenacted ad nauseam — sometimes literally. Each of the writers' panels separately invoked Nick Flynn's memoir, The Reenactments, about having to watch the worst traumas of his life, including his mother's suicide, replayed over and over again as a studio developed his work. On the set of Wild, Cheryl Strayed watched her eight-year-old daughter Bobbi — named for her mother — play a version of herself in a scene where she's physically menaced by Strayed's abusive father. "My daughter Bobbi is playing Cheryl and Laura was playing Bobbi and Reese was playing me and I'm Cheryl it was very confusing," said Strayed. "But suddenly it occurred to me in a bone-shaking way that that had been my life, and nobody had yelled 'cut,' and my daughter was showing it to me as I'd never seen it. And she didn't have that life. Her life is different because of my life, and it was really an unbelievably powerful thing."
More often, writers are haunted not by the movie's accuracy, but by the opposite. Jess Walter dreads what he calls "the what-if meeting." As one executive said to him of a character, "This guy's such a loser. What if he's a winner? You have him as an unemployed newspaper reporter, but what if he's a successful lawyer?" To which, Walter remembered shooting back, "What if he's a Jedi, or a shark?" The exec either missed the sarcasm or pretended to, asking, "But how would that work?"
Orlean regards "what if" with her usual bemused generosity. She should know, having been through the ultimate what-if experience — the transformation of a book about a flower breeder into a postmodern satire on the adaptation process. "When they bought The Orchid Thief, first of all I thought they were crazy," she said. After "a very long radio silence," her producers took her out to lunch and began plying her with wine. She grew suspicious. Finally, they gingerly handed her Charlie Kaufman's screenplay. Back at home, she read the script. It opens with "Susan" as a five-year-old, a scene that's not in the book.  In another scene, "Susan" goes on a porn site. Then there was "Susan" snorting drugs, and falling in love with her subject. When the producers finally called her, Orlean said she didn't want her name used. But then her better judgment— and ego — prevailed: "Certainly sitting in a movie theater and having Meryl Streep say, 'Hi I'm Susan Orlean,' it's a special experience."
Stephen Elliott had a less heady time. James Franco took years to adapt The Adderall Diaries and barely spoke to him during the process. What finally emerged drastically altered the events of a harrowing memoir. "I was just watching this part the other day where James Franco was giving a reading from my book," he said, "and they rewrote the book I was reading from, which is so not necessary to the plot in any way, and the book he was reading was so bad!"
Franco banned Elliott from the set and didn't invite him to the movie premiere. "It should have been really negative in every way," Elliott said, "but I'm not even mad. I bought a house with the money they gave me, I sold a lot of books, and it inspired me to make a new movie about James Franco making a movie about me." Titled After Adderall, the black-and-white art film features a scene in which a man wearing a James Franco mask talks to Elliott, who plays himself. Elliott wrote it in a two-week rush of transformative resentment. "That inspiration was a huge gift," he said. "Nothing has come out of the movie that hasn't been positive."