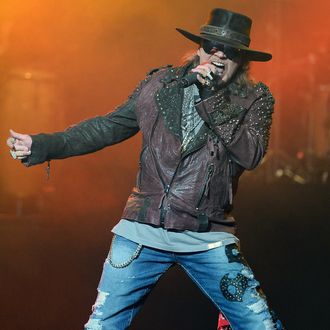 Being a rock star is hard.
Photo: Ethan Miller/Getty Images
Gone are the days when a fresh-faced Axl Rose could live and breathe the rock-star life and emerge semi-alive. It appears his attempt at reliving his Guns N' Roses glory days is going about as smoothly as they did two decades ago: After just one show together, Axl has broken his foot. "This is what can happen when you do something you haven't done in nearly over 23 years," he tweeted, along with a video from his doctor explaining the fracture, just in case you still don't trust a word Axl says.
But don't worry! Reliable rock star that he is, Axl will carry on with Guns N' Roses' headlining reunion set at Coachella, which kicks off next weekend, and their pre-Coachella shows in Vegas. He'll just have to do it in a cast and with limited shredding abilities — because you're not a true rock god until you've performed with a broken bone. Remember when Dave Grohl braved a concert having literally just shattered his leg? You do what you gotta do. Axl wouldn't even be the first to endure a foot injury at Coachella: Just last year, Florence Welch broke hers on the very stage he'll be hobbling onto next weekend. It gets worse there every day.