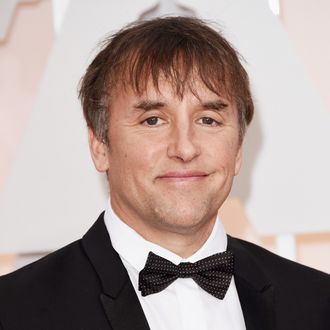 Richard Linklater.
Photo: Jason Merritt/Getty Images
Everybody Wants Some!! director Richard Linklater sometimes seems like the only director of his generation who actually, know, you, lived, man. Tarantino spent his adolescence in movie theaters, or lost in the luminous glow of a television screen; Linklater played baseball, chased girls, and got arrested for stealing cinder blocks. That earnest pursuit of juvenile profundity (which usually ends with a hangover) shows in his movies. Speaking with GQ, Linklater described the time he stole $3 work of cinder blocks with his college roommate so they could build book shelves. (Whoa, couple of badasses here):
Have you ever been arrested?
Only once. Back in college, in Huntsville, Texas. I wasn't Driving While Black, but I was Driving With Black—my college roommate.
I've had a bad history with cops. I'm the guy who never gets a warning ticket; they can't wait to nail me. You know: Cops look at you and gauge if you're friend or foe. I quickly fail the asshole test. I've gotten a little better over time, but if I were black, I'd be dead four times over, just from the arguments I've had with cops.

That night, past midnight, me and my buddy had thrown some cinderblocks from a construction site into the back of my truck. We were going to build some shelves in our college house. It was, like, $3 of material. But someone saw us and called it in. They saw us driving away—a white guy and a black guy—and pulled us over. It hit me years later that maybe if I'm with a white roommate, we wouldn't have gotten pulled over.

Did they take you to jail?
Timothy Leary once said that the best education you'll ever have is spending some time in jail. This was a Class C misdemeanor—theft—but yeah, we spent the night in county jail. It's a good wakeup. You really get a sense for how the state owns you if you cross a certain line, and you come to appreciate your freedom. It's not fun—but I think everybody should spend at least one night behind bars.