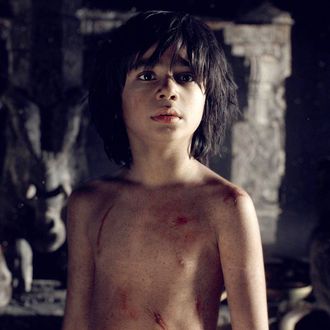 Photo: Disney Enterprises
Batman v Superman is not the top story in this week's box office, which is a relief. We've pretty much exhausted all palatable reasons to discuss the movie, and then kept going for probably two weeks too long. (It made $9 million for an $825 million global cume, and now it will not be mentioned again in this post.) Jon Favreau's live-action/CGI Jungle Book, which features Scarlett Johansson as an alluring snake and Bill Murray as a bear, made $103.5 million domestically, $290.9 million globally, and received rave reviews. The movie cost $175 million to produce, and offers a delightful family-apt piece of entertainment to contrast with all the warring superheroes.
Finishing in second, Barbershop: The Next Cut made $20.2 million, which, while below studio expectations, is nonetheless impressive considering its predecessor came out 11 years ago, and there are no superheroes in the movie. Maybe we can get a Jungle Book and Barbershop crossover, Baloo v Barbershop: Dawn of Buzzcut?
Melissa McCarthy's The Boss, which received pretty much ubiquitously bleh reviews, dropped 56.9 percent in its second week for a $10.1 million domestic haul, the largest second-week drop for any McCarthy-lead film. (Spy dropped 46.3 percent, and is a much better movie because Rose Byrne and Jason Statham are both national treasures.) Zootopia became the tenth animated movie to make $300 million domestically, and is currently 2016's top-grossing film in the world, with an $880 million global cume. Faring considerably worse, Hardcore Henry, a movie with the most limited target audience imaginable (people who like watching video games but not playing them), dropped a hardcore 71 percent, making $1.4 million in its second week for a total of $8.1. That's an average of $462 per screen, the second-worst per-screen average of any film in this week's top-20, behind only Demolition ($307,000 on 862 screen, $356 per).
On the indie side, Green Room, in which a gaggle of hardcore punk rockers use sharp objects to fight Patrick Stewart's cadre of skin head ultra-leftists in a bar, made $91,000 on three screens, and Sing Street, a poppy musical with a different kind of punk rock but no skinheads and considerably fewer murders by machete, made $68,979 on five screens.