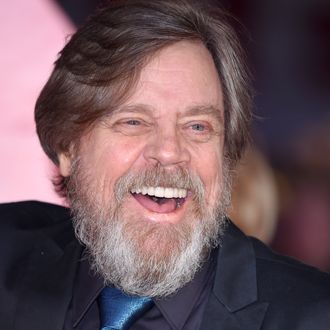 Hamill, who will voice The Joker.
Photo: Karwai Tang/2016 Karwai Tang
Warner Bros.'s home-video version of the Batman: The Killing Joke comic officially got its R-rating, according to EW. The studio confirmed as much with the mag earlier Thursday, adding that the animated movie's producers were pushed to stay as faithful to Alan Moore's original story as possible, no matter what that would make the MPAA say. "The Killing Joke is revered by the fans, particularly for its blunt, often-shocking adult themes and situations," Warners animation president Sam Register said. "We felt it was our responsibility to present our core audience, the comics-loving community, with an animated film that authentically represented the tale they know all too well." The update makes The Killing Joke the first DC Universe Animated Original Movie to earn an R, and though adaptation specifics are unknown, this means there's a good chance it's coming with some of its notoriety in tow. With Mark Hamill and Kevin Conroy reprising their voice roles as the Joker and the Bat, respectively, the film premieres this summer at San Diego Comic-Con.