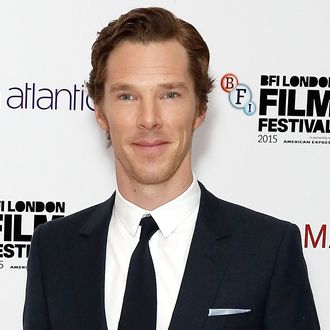 Let your heart grow three sizes.
Photo: John Phillips/Getty Images
Benedict Cumberbatch — a fan of Christmas with no grudges against the people of Whoville, for all we know — is set to star in a new animated take on Dr. Seuss's How the Grinch Stole Christmas from Illumination, the studio behind the Despicable Me franchise. The news comes from CinemaCon, where, according to EW, producer Chris Melendari told crowds that Cumberbach has a voice that exudes "comedic wickedness while embodying vulnerability" (he did not mention whether the actor has a brain full spiders or garlic in his soul). Cumberbatch, who has voice experience from The Hobbit and will soon appear in Doctor Strange — where he seems as charming as an eel, but in a good way — faces the tough task of measuring up to the original Grinch, Boris Karloff, live-action Grinch Jim Carrey, and Ja Rule for some reason. The Grinch is being written by Michael LeSieur (You, Me and Dupree), while Pete Candeland and Yarrow Cheney will direct. It is set for a Nov. 10, 2017 release. Though he will surely succeed in the role, we hasten to add that Benedict Cumberbatch seems nothing like a three-decker sauerkraut and toadstool sandwich with arsenic sauce.