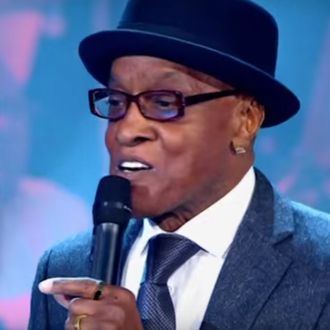 Billy Paul, the Grammy Award–winning singer known especially for the Philly soul hit "Me and Mrs. Jones," died Sunday at his New Jersey home. The 81-year-old's manager confirmed the news with the AP, noting that Paul (né Paul Williams) had pancreatic cancer and was hospitalized last week at Temple University Hospital. "We regret to annouce [sic] with a heavy heart that Billy has passed away today at home after a serious medical condition," read a statement on Paul's website. "We would like to extend our most sincere condolences to his wife Blanche and family for their loss, as they and the world grieves the loss of another musical icon that helped pioneered todays R&B music."
The Philadelphia native's career spanned more than five decades, with a total of 15 albums and, as Questlove put it, some of the earliest "socially conscious post-revolution '60s civil rights music." Paul's first full album, Feelin' Good at the Cadillac Club, came in 1968 via Gamble Records. The writing-producing duo of Kenneth Gamble and Leon Huff would help Paul find his early success, most notably with "Mrs. Jones." The 1972 hit single reached the top of the Billboard Hot 100 and earned Paul a Grammy for best R&B vocal performance.
"We are very saddened to learn of the sudden death of our good friend and Philadelphia International Records recording artist Billy Paul," Gamble and Huff said Sunday, upon learning the news. "Billy's voice combined both Jazz, R&B, and Soul vocals, making him one of the great artists to come out of Philly and to be celebrated worldwide. Our proudest moment with Billy was the recording of the salacious smash 'Me and Mrs. Jones.' In our view, it is one of the greatest love songs ever recorded."
This story has been updated throughout.