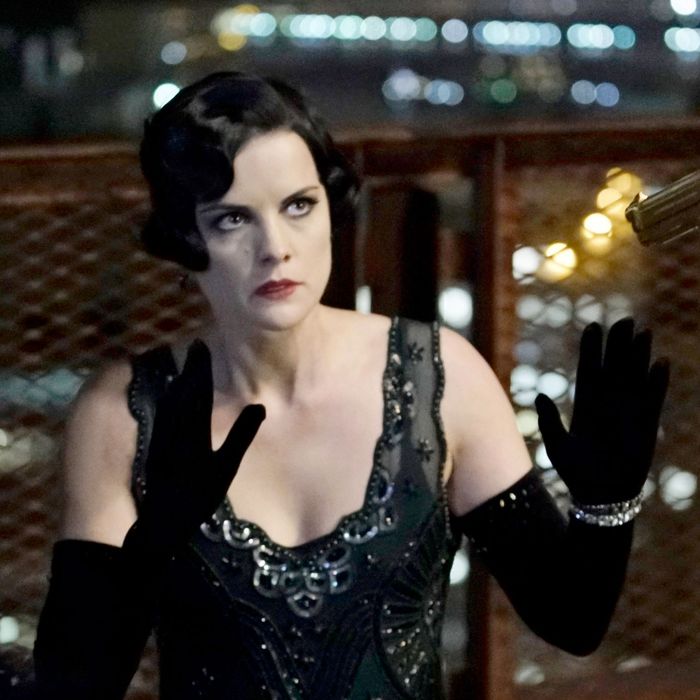 Jaimie Alexander as Jane.
Photo: Peter Kramer/NBC
This week, Blindspot embraces its absurd side with a bonkers plotline involving the world's most infamous art theft and a hypothetical terrorist-funding art enthusiast. Other highlights include a samurai-sword fight, a bullet-riddled Vermeer, a BASE jump from a high-rise, a pile of blow, and a second Gardner Heist. Yes, an explanation is forthcoming.
All together, "One Begets Technique" is wildly entertaining and really dumb. This stupid/engaging dynamic is half of this show's beauty, and if you can't get down with it, there are plenty of other things to watch on Monday night. Blindspot does not have time to miss you. Most of the time, I don't understand how or why the show works, but I embrace its ridiculousness, have a few laughs, spend a bunch of time Googling obscure codes and anagrams, and do my darndest to soothsay what's coming next.
Remember Rich Dotcom? After a nine-episode absence, the smooth-talking playboy villain played by Ennis Esmer is back and begging to be let out of prison, professing knowledge of a terrorist-organization funder, Shohid Ahktar. In the early half of the season, Esmer's Vince Vaughn–like affectation bugged me, but now that Blindspot has entrenched itself in the cheese, his coked-up stream-of-consciousness diatribes are a whirring bundle of silly dialogue. He knows the whereabouts of the most coveted art loot in the world! The sex in prison is vanilla! He thinks Jane is cute! He knows an art restorer! He wants Weller to just go for Jane! It's annoying, but the same way that a cute yapping puppy is annoying. Not so bad.
Somehow, Rich has located a highly guarded vault of missing Gardner Museum art — a collection that was famously stolen in 1990 — and arranged a sale to Ahktar. But he's still in prison, doesn't have access to the art, and doesn't know where Ahktar currently resides. Time for the Feds to come to the rescue. To nab the very wanted Ahktar, the FBI collaborates with Ali's U.S. Marshals team, agreeing to let Rich out of prison and grant him amnesty if he can get them to Ahktar. What ensues is a very complicated series of decoding, breaking, entering, shooting, samurai-sword fighting, and art stealing. The result? Weller's team kills the bad guy, gets the art, but leaves the scene with a bullet-torn Vermeer. Reportedly worth $200 million, such a damaged canvas wound would bring Dutch Masters fanatics to tears, and give apt art restorers big, hard, art-restoring boners. (Eww.)
Luckily, Rich knows a guy. The guy turns out to be Rich's bitchy, talented ex, who magically restores the Vermeer in half a day. Fast-forward to Rich and Jane dressed in Gatsby-esque costumes, standing around at a lame penthouse party where the presumable Ahktar shoots off gold-plated guns this way and that. Fast-forward a little more and the paintings are laid out on a table so Ahktar can examine them, while a waitress serves coke-under-a-cloche. (Rich partakes with great zeal.) The paintings are declared fakes, Ahktar shoves a gun down Rich's throat, the FBI storms the building along with another unidentified law-enforcement team, and Jane disarms Ahktar. And then Rich decides to jump off a building. But, never fear — he's got a parachute under that suit. He drives off into the night with his bitchy not-ex, who stole the Gardner paintings back at the FBI offices. Easy as pie. (This does not bode well for the FBI's reputation.)
Certainly, thankfully, this is not the last we'll see of Rich and his artsy, nimble-handed lover. They add something of a "less elegant Agatha Christie meets more manic Ian Fleming" vibe to the Blindspot getup.
The subtext of this week's episode is all about Ali and Jane. The U.S. Marshals and FBI collab is a most-needed device to get these two into the same room and weed Ali out of the equation. Between Rich's pushy dialogue and Weller's wrought glances, it's clear that his loyalties and concerns lie with Jane, but neither she nor Ali takes the bait, even when Ali catches them in a "friendly" locker-room hug. Rather, they team up and tolerate one another without a hint of catty sniping, while Ali clashes with Weller. Hats off to the writers for not pitting the ladies against one another; it would have been a cheap shot with this kind of setup. By episode's end, Ali admirably calls it quits with Weller, calmly telling him to figure his stuff out. I wish we'd gotten to see more of this character on her own, but she seems to be a reoccurring temptation for Kurt, so perhaps she'll reappear some day soon.
Meanwhile, Weller's father's cancer continues to progress. This week, he invites Jane to visit him in the hospital, where she follows up on Oscar's order and pretends to remember all of them together before she disappeared as a child.
Finally, the mystery of Mayfair goes deeper. In the last episode, Mayfair flirted with a new love interest, who I suspect is actually an embedded spy. Just as she follows up with a phone call, her supposedly dead wife/girlfriend Sophia pops up in the back seat of her car. You'll recall that Mayfair and Sophia worked together on "Operation Daylight" and when it all went wrong, Sophia killed herself. Except, apparently, she didn't.
Tattoo Meanings:
No tattoos today. For a good portion of the episode, in fact, Jane's tattoos are covered up, and she wears a glittery, uncomfortable-looking dress.
Blind Sides:
This week's anagram translates to "to begin the sequence."
The art thief's house is not actually in Cobble Hill. More like Prospect Heights or Park Slope.
Patterson seems fully recovered from her Silence of the Lambs–style experience. If things continue at this pace, I predict sparks with the staff psychologist starting next week.
Minus ten points for beating the dead Gatsby horse. No more Gatsby-themed parties, for God's sake. Even fake ones.
Fine, Ennis Esmer is sort of cute. I said it. Are you happy?
But he's still a little too Vince Vaughn, circa every Vince Vaughn movie ever.