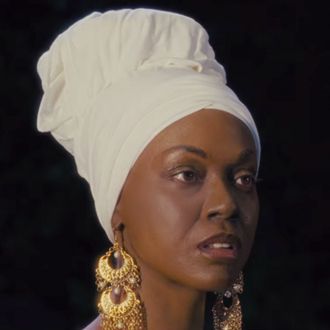 Zoe Saldana as Nina Simone.
Today, BuzzFeed published a feature detailing the many, many reasons that Nina, the Nina Simone biopic starring Zoe Saldana, is a disaster. The film has gotten backlash over the casting of Saldana, who wears dark makeup and a prosthetic nose in the film, as Simone.
Kate Aurthur talked to Nina's writer–director Cynthia Mort, who became very disillusioned with the movie industry while making the film, saying that producers still wield too much power over writers and directors and all that anyone cares about is money. The article also points out that the media and the public are much more concerned with the racial politics of filmmaking than they were in 2005, when Mort, who is white, began working on the film. As Aurthur writes, in 2005, "The two perceived favorites for Best Picture at the Academy Awards for that year were Brokeback Mountain, a tragic gay love story directed by Ang Lee, a straight man, and the winner, Crash, which directly engaged with racial antagonism in Los Angeles — and was directed, produced, and co-written by Paul Haggis, a white man." 
At the end of the article, Ta-Nehisi Coates and pop-culture writer Luvvie Ajayi agree that in the future, those in the film industry should think twice about whether an idea is actually a good movie idea. Both imply that the film probably never should have been made. "The next time they try to do this with somebody's story, they will think hard," Coates said. "People will think real, real hard about whether to do that. Because it's a new era." 
Ajayi called it "a learning moment for a lot of filmmakers." "I hope they're listening to the reactions people have had to this," Ajayi said. "I'm at a point where I really want people of color to tell the stories of people of color."  Read the full article on BuzzFeed and let it inform your decision whether to hate-watch the movie as a learning moment or avoid it like the plague.