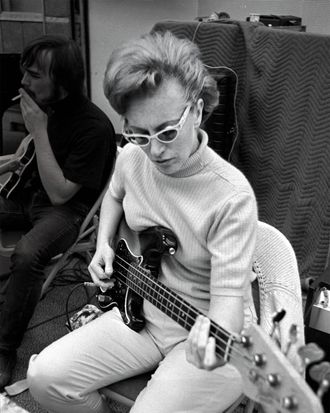 Carol Kaye plays bass guitar in a Los Angeles recording studio in the mid 1960's.
Photo: GAB Archive/Redferns/Getty Images
Early in 2015's Love & Mercy, a film based on the life of Brian Wilson, a foxy blonde in cat's-eye sunglasses addresses the Beach Boys leader. "Hey, Brian? I think you might have screwed up here," she says, gesturing to the sheet music with her pencil. "You've got Lyle playing in D, and the rest of us are in A major. How does that work? Two bass lines in two different keys?"
As she often was in real life, that blonde bassist Carol Kaye is the lone woman in the studio, and the only female member of an informal, unheralded lineup of talent — drummers, guitarists, percussionists, piano, and horn players — that you hear on the Beach Boys' legendary Pet Sounds. She's also on a jukebox's worth of hit songs from the '60s: Ritchie Valens's "La Bamba," Nancy Sinatra's "These Boots Are Made for Walkin'," Simon & Garfunkel's "Scarborough Fair," to name a few.
Mostly, these musicians were jazz players brought in from Los Angeles's teeming nightclub scene to lend their chops to the recordings of rock bands, some of whom (like the Monkees) rarely touched an instrument inside a studio. So, dramatic liberties aside, it's unlikely that "How does that work?" was a phrase uttered by the now 81-year-old Kaye, whom Wilson and Quincy Jones have called the greatest bassist in the world.
And yet, because so few people know her name, it's all too easy to fictionalize a woman who made such a big and influential noise while working in the shadows, and in a nearly all-male world.
Kaye never exactly expected to be remembered. Most session musicians thought they were creating ephemeral pop hits, not lasting touchstones. "Music up to that time had a life span of about ten years," says the chatty, gray-haired Kaye, speaking from the sofa in the living room of her home on a warm day in early April, her white poodle mix Rusty beside her. "We're shocked those songs lived on."
Legacies are complicated affairs. As anyone who shares success with other people knows, collaboration and dispute tend to go together. For instance, session drummer Hal Blaine claims he, Kaye, and their colleagues were known as the Wrecking Crew, a sobriquet he came up with after older studio hacks expressed a concern that these firebrands would "wreck" the music industry with their faddish rock. As nicknames go, the group's is pretty badass — except, according to Kaye, it's an ex post facto bit of mythmaking from Blaine. "We were never called that," she says bluntly, and it bugs her that the term has stuck.
Not in dispute, though, are Kaye's bona fides. "Carol's genius was to look at extremely basic songs and figure out a way to make them interesting," says Michael Molenda, editorial director of Bass Player magazine. "She'd listen to the musicians and just find that hooky, memorable bass line to drive the song forward." She could show up at a session for Sonny & Cher's "The Beat Goes On" and rescue the tune with a bouncy lick in F, or improvise, on a lark, a zippy bass solo on Mel Tormé's classic "Games People Play" that makes the song.
Kaye doesn't record much anymore, but she gives lessons via Skype, and if you order any of her 40 or so educational books and DVDs, you might receive some cool memorabilia, like a photocopy of her check for playing on the Mission: Impossible theme song ($70). Two years after moving into her one-story house here on the edge of the Mojave in Antelope Valley, California, and she still hasn't finished unpacking decades' worth of stuff, but her instruments are resting prominently in the living room.
"We liked [rock] because it was so easy, see," she says of sessions that typically lasted a few hours and yielded five or six songs. "That meant we could do a whole album in six hours." Assuming that album wasn't for fellow bassist Wilson, that is. Pet Sounds, which turns 50 next month, took more than a year to finish, with upwards of 30 takes on tracks like "Wouldn't It Be Nice" and Kaye's favorite, "Sloop John B." Wilson was heavily influenced by Phil Spector's symphonic productions for the Ronettes and the Crystals, and Kaye worked for that notoriously difficult producer, too. Once, when a very pregnant Kaye needed to use the bathroom, Spector told her to maneuver through a studio packed tight with musicians without touching any of the mikes placed precariously around the room.
Wilson was less dictatorial, more experimental. "He'd say, 'Okay, can you do a dooba dooba dooba?' " recalls Kaye, "and we'd go, 'What's a dooba dooba dooba?' " Kaye was unaware she was helping to create a masterpiece with Pet Sounds and on an instrument associated with Wilson. "[Pet Sounds] was just some more work for Brian," she says. "By that time, he was having hit after hit after hit, so we thought, Okay, this is just another one." Not quite. When Paul McCartney rhapsodizes about how the bass lines on that album partially inspired Sgt. Pepper's Lonely Hearts Club Band, he's talking about Kaye's performance.

Carol Kaye (born Smith) grew up too fast like a lot of Depression-era children. Her parents were musicians, but her father sold her mom's piano to finance a move from Washington to Wilmington, California, at the start of World War II. He was abusive, which is partially why Kaye takes a complicated view of Beach Boy patriarch Murry Wilson, who allegedly smacked Brian so hard he went deaf in one ear. "I'm not trying to stick up for him," she says. "But most of us got hit back then. [In our house] the only thing that stopped the fights was music. I got the picture: If you do music, it makes things all right."
At 9, Kaye encouraged her mom to divorce her father and took odd jobs cleaning apartments to earn some extra income. Perhaps noticing young Carol singing around the house, Kaye's mom saved up $10 and bought her 13-year-old daughter a steel guitar from a traveling salesman. "Probably to get me out of her hair," Kaye says. She took lessons from a teacher in Long Beach, who eventually set her up with gigs playing bebop in L.A. nightclubs.
But jazz didn't pay much, and Kaye worked day jobs, including as a comptroller at Hughes Airport, to support her mother and children. She'd had a baby at 16 and pretended to be a widow until she married musician Al Kaye two years later. They had a second child but divorced soon after. "He drank a lot, and I couldn't stop it," she says.
One night in 1957, producer Robert "Bumps" Blackwell, an early associate of Ray Charles, walked into Hollywood's Beverly Cavern looking for a guitarist to play on Sam Cooke's "Summertime." Kaye hesitated, because studio work often spelled the end of a jazz career, but it paid more than she made in a week.
The work became regular. One day a bassist was a no-show, Kaye switched instruments, and after that she was first call — the highest compliment you can bestow upon a session musician. Kaye estimates she was making the equivalent in today's dollars of almost $10,000 per week by 1965. She booked so many dates that she would lay down on her case to catch a few minutes' sleep. Fellow musicians' "wives would come down to the studio, and I'd joke, 'I slept with your husband today!' " she says.
Kaye's second husband didn't approve of her job's late hours, and he especially didn't like it when she was playing with black musicians, which was often — the late virtuoso drummer Earl Palmer was a close friend. So one night, Kaye came home late from a session for Ike Turner, who had paid the crew in cash, and woke her husband up by dumping the money on the bed. "That's what the ladies of the evening got back then," she says with a grin. Kaye divorced him not long after, got a live-in nanny, and said, "Screw it, I'm working."
Even in retrospect, Kaye doesn't necessarily see that kind of career-oriented attitude as feminist. Honing her craft in jazz clubs, where women weren't an anomaly, she didn't consider gender an issue, so whenever she was treated to an insult, Kaye would hurl it right back with a "Well, you play good for a guy."
It got to be so that if she couldn't make a date, producers asked other bassists for "the Carol Kaye sound," which she says boils down to clean lines, perfect timing, and hard picking that let her "dance on top of the beat," which she does most gloriously on "Good Vibrations." You can hear other prime examples on the opening to Glen Campbell's "Wichita Lineman," on which her playing somehow translated the song's feeling of mystical whimsy, and in the verve of her lines on Joe Cocker's "Feeling Alright."
As she talks, Kaye is momentarily distracted by an ice-cream truck cruising down the cul-de-sac, blasting a ragtime tune. "He stopped in front of my yard one time," she says, eyeing the screen door. "I said, 'Move that fucking truck!' Excuse my language. I was shy for a while, but working with men all the time, it's like, 'Ugh, screw off.' "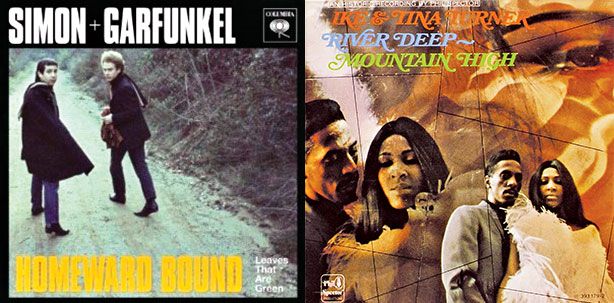 A roundtable in 2015's The Wrecking Crew documentary gives a sense of what it was like not to be a white guy in a studio in the '60s. "I don't think anyone ever really felt that [Carol] was a woman-woman," says Hal Blaine, which probably passed for respect at the time. Meanwhile, guitarist Tommy Tedesco teases Kaye about the sexual-harassment lawsuits she could have filed. (Kaye did sue Tedesco in the early '80s for allegedly calling her a "dumb cunt.")
By 1969, Kaye was exhausted. She was sick of drinking multiple cups of bad coffee every day, and the music started to sound "like cardboard." Things were even worse at home. Within the span of two weeks that year, Kaye's first husband and fiancé both died, and her house was robbed. She got into a car accident on the way to one of the funerals, and then Charles Manson, whom she had met with Brian Wilson, masterminded a killing spree. "Everybody got scared," says Kaye. "We pulled our names and phone numbers out of the union books so fast." Some of her colleagues began carrying guns to work.
By then, Kaye had started a publishing company to release her book, How to Play the Electric Bass. She still went to the studio, but it was mostly for soundtrack work — that's Kaye on the theme songs to M.A.S.H. and Shaft. More and more, rock bands felt that having other musicians on their albums was inauthentic.
"We knew that someday [the rock sessions] would stop," says Kaye, who ended up on food stamps for a while after signing a crooked publishing deal (which she prefers not to discuss). Circumstances eventually improved, and she was content to return to playing jazz and transition into teaching. She estimates she makes a few thousand dollars a year in residuals from her studio days, though she has to be vigilant about tracking down contracts in order to prove that, yes, it's her on Ray Charles's "America the Beautiful." It's just another aspect of what's become a minor battle for control over the Wrecking Crew narrative — getting credit, something Kaye doesn't have an appetite for.
"I don't need somebody to say 'You're great,' because they could easily say 'You're terrible.' But you can't take away a person's musicianship," she says. "Everybody wants to be somebody. What is that? When you're born, you are somebody. Why do you have to keep proving yourself all the time?"
*This article appears in the April 18, 2016 issue of New York Magazine.