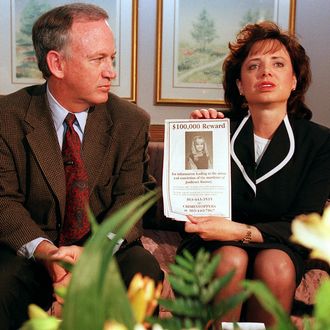 John and Patsy Ramsey, the parents of JonBenet Ramsey.
Photo: Helen H. Richardson/Copyright - 2013 The Denver Post, MediaNews Group.
Everybody wants some (limited-run TV dramas that center on a gruesome murder in the 1990s)! In the wake of FX's The People v. O.J. Simpson and NBC's planned Law & Order–style true-crime series about the Menendez brothers, CBS will air a true-crime miniseries of its own. The first installment of the unscripted show, which is produced by Tom Forman (of 48 Hours and Extreme Makeover: Home Edition) and Critical Content, will focus on the murder of 6-year-old beauty-pageant contestant JonBenét Ramsey. Case Closed: JonBenét Ramsey will feature the original investigators on the case joining forces with new experts in the style of, say, Serial, The Jinx, Making a Murderer, or Unsolved Mysteries. The three-part series will premiere September 18, timed to coincide with the 20th anniversary of Ramsey's death, which is one way to stand out from the pack.
This post has been updated throughout.