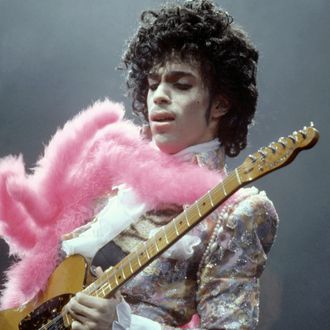 Prince, 1992.
Photo: Michael Ochs Archives/Getty Images
Music legend Prince died Thursday at the age of 57 at his Paisley Park residence. The news was confirmed by his publicist, though the cause of death has yet to be released. Stars quickly took to social media to express their grief and pay their respects to the Purple One, whose music inspired and thrilled so many. Read on for tributes and fond remembrances.
In a Tumblr post, Frank Ocean* wrote: "My assessment is that he learned early on how little value to assign to someone else's opinion of you..an infectious sentiment that seemed soaked into his clothes, his hair, his walk, his guitar and his primal scream."
In a statement released Thursday afternoon, MTV said: "MTV is heartbroken and in utter disbelief at the news that the world has lost Prince Rogers Nelson so suddenly and so before his time. Prince was a once-in-a-lifetime artist who transcended every medium and genre he touched and created music with a passion and individuality that inspired multiple generations. Our hearts and prayers go out to his family, friends and millions of fans."
*An earlier version of this post misidentified Frank Ocean's Tumblr as Kendrick Lamar's.