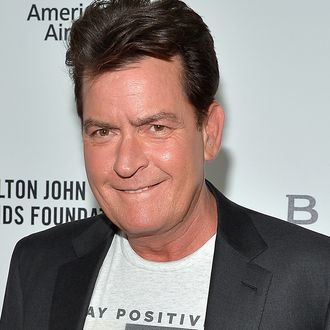 Charlie Sheen.
Photo: Charley Gallay/2016 Getty Images
The LAPD has Charlie Sheen pegged as the subject of a criminal investigation prompted by his ex-fiancée, according to NBC News. The development comes four months after the actor's ex, Scottine Ross (a.k.a. Brett Rossi), sued him for assault. Ross approached the LAPD to request an emergency protective order on March 31, after The National Enquirer and Radar Online published material about a taped phone call that allegedly had the actor detailing past lies about his HIV status, as well as threats to kill Ross. At time of publication, the LAPD wasn't giving media many details — only that detectives from an elite stalking unit were helming the ongoing felony-threat investigation.
Ross's lawyer, David Ring, told USA Today that his client didn't make the tape, and that she takes the threats "extremely seriously because she knows him and knows his personality and behavior … I know the context, and there are things he said on the tape that only he would know because we were in settlement talks at the time [over last year's lawsuit]."
Authorities reportedly served a search warrant to The National Enquirer, requesting the full tape. "We believe the search warrant is illegal and violates federal and state law prohibiting the use of search warrants against media companies who are reporting news and information," The National Enquirer's editor told the AP. NBC obtained a copy of the warrant, which echoes claims of physical and mental abuse that Rossi made in her civil suit at the end of last year. That suit is on hold, pending arbitration, till May 2017.