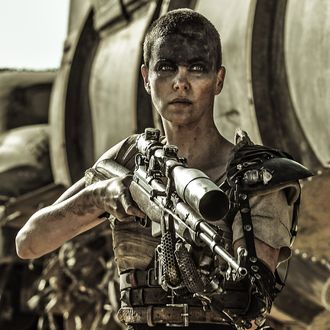 Theron in Mad Max: Fury Road.
Photo: Warner Brothers
It appears that Charlize Theron is currently going through a bit of a fury renaissance. Last year she starred as the badass heroine Furiosa in George Miller's post-apocalyptic delight Mad Max: Fury Road, she recently signed on to play "some sort of villain" in the upcoming Fast 8, and — if that wasn't enough wrath for her liking — has also expressed interest in reprising her one-armed Mad Max role for a potential sequel. "I would love to bring her back to life, are you kidding?" she told MTV this past weekend about Furiosa. "To have people react to something like that where you went and worked your balls off, it's really, really nice. It kind of just puts everything into perspective. I can see how people are responding to her and I look at my little girl, and I'm like, yeah, I'd love to play this woman again, definitely." Somebody get Miller on the phone as soon as possible, bitch.