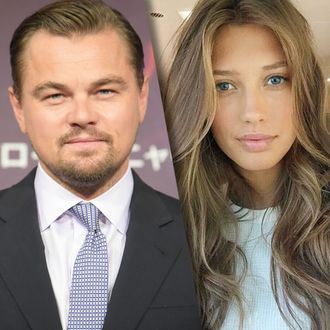 DiCaprio and Weimar.
Photo: Getty Images, chelsey_weimar/Instagram
Did Leonard DiCaprio dump his model girlfriend to get that Oscar? It's hard to say for sure, but, barely a month after finally achieving Hollywood's highest honor, he seems to have found yet another young model to romance. Do the math: Oscar season, no model; not Oscar season, model. Clearly we were right all along. Leo has been spotted, in the inimitable words of "Page Six," "cozy[ing] up" to Dutch Victoria's Secret model Chelsey Weimar, which, coincidentally, is also our Brechtian drag-queen name. Online, it's hard to find a birth date for Weimar, but she's seemingly well clear of Leo's 26-year age limit, and may in fact be much younger. The pair were reportedly seen leaving Nobu together (obviously), and the wonderful people who know these kinds of things say some of her Instagrams show proof of being shot in Leo's home. However, a source also told "Page Six" that Leo was too busy with his environmental efforts to date any woman right now, model or not. "He isn't spending time with anyone," says the source, which adds just the right melancholy touch to this whole affair.