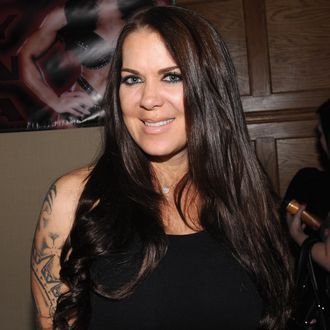 Chyna.
Photo: Bobby Bank/Getty Images
Chyna's close friend and manager, Anthony Anzaldo, believes the late wrestling star died of an accidental overdose. He explained to multiple news outlets Wednesday that he thought his client (née Joan Marie Laurer) had been improperly using Ambien and Valium before her death — and insisted she did not commit suicide. "She accidentally and unintentionally misused her legally prescribed medication over the course of 2-3 weeks," he wrote in an email to NBC News. "It's an epidemic." Chyna was taking the medications to treat insomnia and anxiety, according to Torrance's Daily Breeze.
Chyna's rep also told the Breeze he was planning an intervention, which would have aired on the A&E show of the same name, to address the way she was using her medication. "You are next. You are going to die if we don't do something," Anzaldo told her two weeks ago. "She said, 'I got it. I got it.'" Anzaldo's comments come one week after he found Chyna dead in her SoCal home; he said he didn't find any illegal drugs or alcohol on the premises. The L.A. county coroner's office is waiting for toxicology results, which could take several weeks, to determine the official cause of death.
The L.A. Times adds that Chyna's brain will be examined by Dr. Bennet Omalu, the renowned chronic traumatic encephalopathy expert Will Smith portrayed in Concussion. Omalu has previously found instances of CTE, a degenerative brain disease caused by concussive and subconcussive hits, in former wrestlers. "We want to donate her brain" for research, Anzaldo told the New York Daily News last week. "We want to know what made Chyna tick."