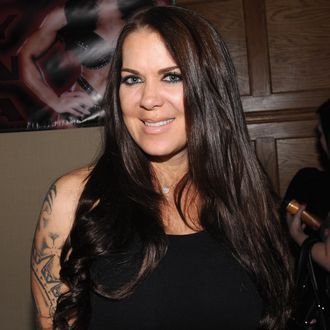 Chyna.
Photo: Bobby Bank/Getty Images
Joanie Laurer, the actress, model, and former pro-wrestling star better known as Chyna, was found dead Wednesday afternoon in her Redondo Beach home. Her agent confirmed the news with KTLA later in the evening.
Variety added that Chyna was discovered because she hadn't been answering a friend's calls, but a cause of death was not immediately available. "It is with deep sadness to inform you today that we lost a true icon, a real life superhero," read a statement on Chyna's official Facebook. "Joanie Laurer aka Chyna, the 9th wonder of the world has passed away. She will live forever in the memories of her millions of fans and all of us that loved her." Early reports had pegged Chyna at 45 years old, but authorities later said she was 46.
A New York native, Chyna's showbiz career began in the mid-1990s with the World Wrestling Foundation (now World Wrestling Entertainment). She debuted in 1997, enforcing for Triple H as a member of the D-Generation X squad. "The First Lady of Sports Entertainment" was known for her fearlessness and dominance; tall and toned, Chyna was also frequently billed as the "Ninth Wonder of the World," in honor of André the Giant. Chyna would go on to reign as the women's champion, and to demolish gender barriers as the first and only female Intercontinental Champion.
Chyna's WWF career lasted roughly five years, until a contentious departure from the org forced her to pursue other scripted and unscripted forms of entertainment. Those notably included appearances on MADtv, Hollywood Squares, 3rd Rock From the Sun, Sabrina, the Teenage Witch, and The Surreal Life. In 2008, Chyna went on VH1's Celebrity Rehab With Dr. Drew, where, according to her website, she worked through "personal demons and depression caused from an abusive relationship and childhood trauma." During the 2000s, Chyna also defied beauty standards by modeling for Playboy; released a handful of adult films; published a best-selling autobiography, If They Only Knew, about how she conquered the WWF; and moved to Japan to teach English.
"There's a misconception out there, in the media, about everything that I've done — I've become this monster or something," she told Vice last July. "I'm a different person now … I went to Japan to regroup, but I want to be able to come home and do my thing in my country, with the hard work that I've done, and everything that I've gone through, and be my own success." A petition was created last year to induct Chyna into the WWE Hall of Fame, and a documentary about her life is slated to unspool early next year.
This post has been updated throughout.