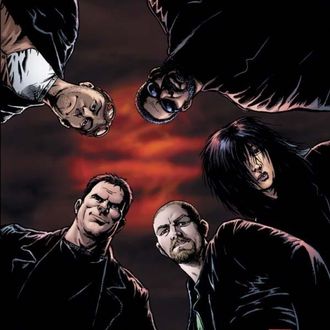 Cover of The Boys Vol. 1. Pencils by Darick Robertson. Courtesy of Dynamite Comics.
Photo: Dynamite Entertainment
Hitchcock had Grace Kelly, Scorsese had De Niro, and Seth Rogen and Evan Goldberg seem to have found their recurring muse in foul-mouthed comics writer Garth Ennis. He's the one who penned Preacher, the acclaimed comic that Rogen and Goldberg have adapted for an AMC series set to debut next month, and Deadline is reporting that the duo have scored a development deal with Cinemax for another Ennis adaptation, The Boys. The comic was co-created with artist Darick Robertson in 2006, and it followed a group of CIA operatives tasked with policing rogue superheroes. It was replete with outrageous depictions of sex, drug use, and ludicrous violence. Cinemax is betting big on comics as of late, having already booked a second season for their upcoming adaptation of Robert Kirkman and Paul Azaceta's Outcast, which debuts this June. Comics: They're not just for kids anymore! They're also for cable executives!