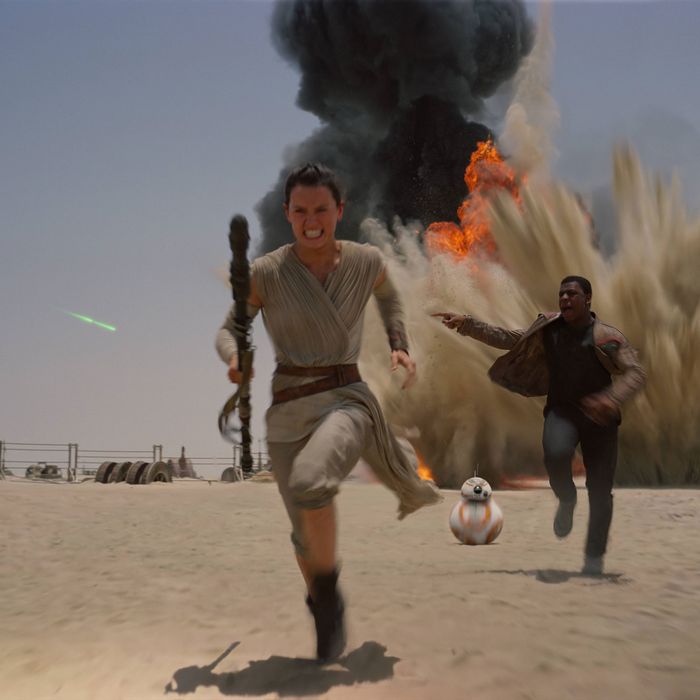 It's not a competition, but still.
Photo: Lucasfilm
On Wednesday, Vulture's Kyle Buchanan wrote a piece on how black actors in Hollywood are routinely cast in motion-capture, voice-over, and heavy-makeup roles — roles, in other words, where they are not black. As if on cue, Deadline on Thursday reported that John Boyega had landed a voice-over role in the BBC's animated Watership Down mini-series, just days after his Force Awakens co-star Daisy Ridley was announced as the star of the WWII romance The Lost Wife. Obviously this is just one data point, but the comparison between the two offers an interesting test case: Boyega and Ridley were both basically unknowns when they were cast in Star Wars and served as co-leads on that film. Looking at their subsequent projects could be illuminating, just as examining the disparate filmographies of Lupita Nyong'o and Margot Robbie, both of whom broke out in Best Picture contenders released the same year, offered a hint that Hollywood doesn't quite know what to do with one of them.
Here's a rundown of what Boyega and Ridley have booked so far. (I did not include Episode VIII, because they're both in it, and you probably already knew about it.)
As previously mentioned, Ridley on Tuesday officially joined Marc Forster's The Lost Wife, the story of a woman whose love affair is interrupted by the German occupation of Czechoslovakia. It's her second new project in as many weeks: Earlier this month, she signed up for the time-travel romance Kolma, a remake of the Israeli TV movie All I've Got, about a dying woman given the chance to go back in time and re-do the day she lost the love of her life. Ridley's also widely considered the front-runner to play Lara Croft in a new Tomb Raider movie, and says she's absolutely down to play the part: "I'm waiting for someone to say, 'I want you, let's do it.'"
As for Boyega, voicing a rabbit in the BBC's Watership Down is the first big project he's landed since Force Awakens opened. It'll be his second job playing a small mammal; he also voices a slow loris in the British children's show Tinkershrimp & Dutch, which began airing in January. Besides Star Wars, Boyega's only upcoming live-action role is in the film adaptation of Dave Eggers' The Circle, which he joined before Force Awakens hit theaters. He'll play a tech-company employee and the love interest of Emma Watson's character — not a bad gig, certainly.
What can we learn from the first few months of the pair's post-Star Wars stardom? Ridley appears to have received more opportunities so far: She's got two lead roles in medium-sized films, and another franchise potentially in the pipeline; Boyega has two voice parts and one boyfriend part. It's early, sure, but it's more evidence that what's happening to Nyong'o, Idris Elba, and Zoe Saldana is not a fluke.