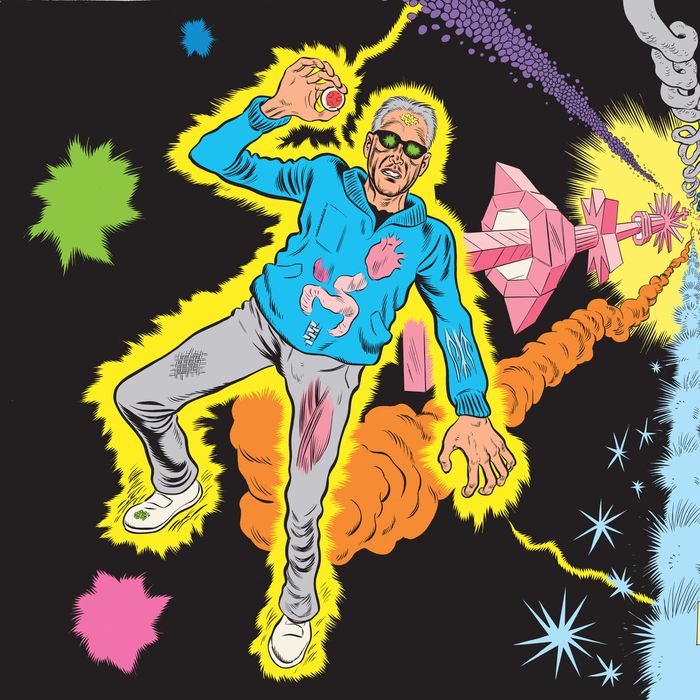 Excerpt from Patience.
Photo: Daniel Clowes/Fantagraphics
As the writer and artist behind Ghost World and The Death-Ray, Daniel Clowes is the rare cartoonist whose graphic novels become cultural events. His new book, Patience, is no exception. Since its release in March, Clowes's tale of time travel and romantic obsession has been selling well and drawing raves. As of the first week of April, Patience was No. 2 on the New York Times Hardcover Graphic Books best-seller list, wedged between two Batman collections. And along with the strong reviews from newspapers and magazines, the novel has a base of celebrity fans like Pan's Labyrinth and Pacific Rim director Guillermo del Toro, who tweeted: "Clowes is an auteur. Period. … Patience is the rare time travel tale that fully delivers."
Patience is Clowes's first non-serialized graphic novel since 2010's Wilson, and writing and drawing it has been his primary occupation for the past five years. Patience took so long that its "present day" is 2012, which Clowes tells me "reflected my optimism at how quickly I would get the book done. At the end I thought I could change it, but there was something poignant about that misjudgment. It's almost what the book is about."
To learn what else the book is about, we connected with Clowes, who discussed his thoughts on aging, time travel, and his career.
Patience is time-travel sci-fi that eschews formulaic devices.
The book is an intricately plotted piece of fantasy fiction, with some of the freakiest art Clowes has ever drawn. It starts with an ordinary, unemployed young married man named Jack Barlow, who's about to become a father with his wife, Patience. Then something unexpected happens, which shouldn't be revealed, since much of the pleasure of Clowes's story is tied to its sudden twists and turns. (Even the back of the book avoids any kind of plot description, beyond the line "A cosmic timewarp deathtrip to the primordial infinite of everlasting love.") The narrative eventually picks back up with a much-older Jack in the year 2029, where he meets someone who can help him travel back in time to before he met Patience, in order to fix his past mistakes. Inevitably, complications ensue, causing Jack to rethink what his mission really is.
While planning the book, Clowes avoided watching any films with similar premises, like Primer or Looper. "The last time-travel movie I saw was probably The Terminator," he admits. "I didn't want to see something that was similar to an idea I had and then be scared away." He did, however, follow in the footsteps of other science-fiction writers and used index cards to keep the story straight. "I knew that in order for this to be successful in the way that I wanted it to be — as a work of interior fiction, looking into this character's motivations — then it had to work as it was purporting. Everything had to add up. There was endless amounts of refinement. Which is the main reason it took five years, really."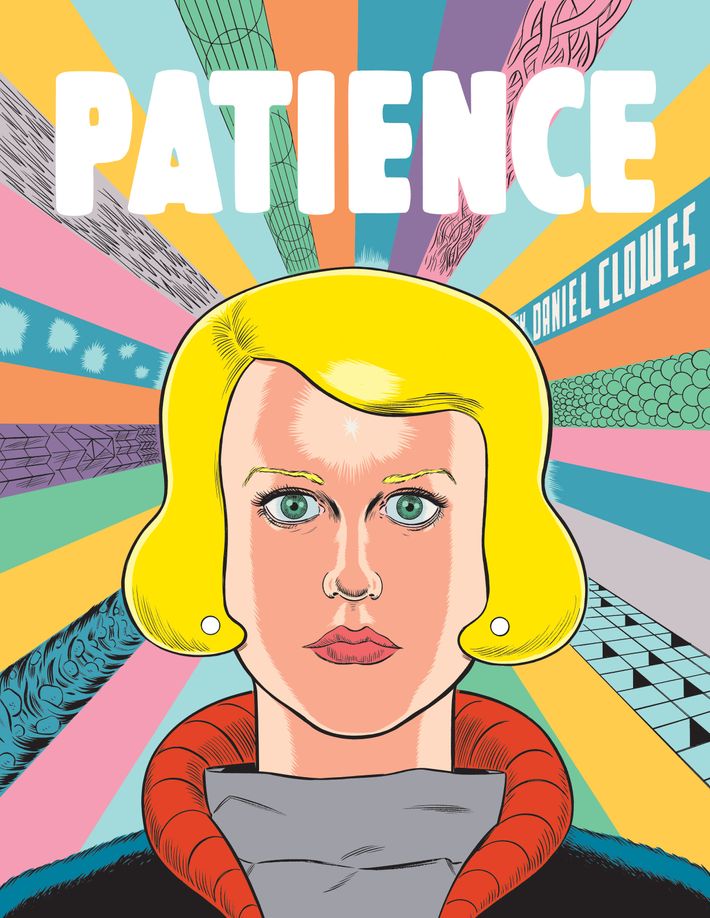 The future of Patience is no dystopia.
The 2029 of the book is intentionally a lot like our own, with just a few curious fashion trends, such as people dying their skins blue. There's also a Donald Trump–like politician who pops up throughout the story, although when Clowes started back in 2010, Trump wasn't on his mind; the character was more inspired by cable-news hosts like Glenn Beck. "I wanted the future to seem okay," he says. "To seem non-apocalyptic." He was far more interested in Jack and Patience's everyday lives than in trying to be a prophet.
"This really isn't 'science' fiction," he adds. "There's no science whatsoever. I didn't do any research into ways time travel would possibly work, or study the physics of it or anything like that. My son is very interested in that stuff. He'll certainly lecture me when he's finally allowed to read this book."
Being a parent altered Clowes's understanding of characters.
Clowes started Patience when his son was barely out of preschool, and now he finds himself the father of an 11-year-old — which is itself a weird kind of time travel. "Parenthood changed the way I view characters," Clowes says. "And the way I view humanity. I would've thought that you have a lot more input into raising a child, into how they turn out, then you actually do. The best you can do is sort of help them realize who they are, and not dissuade them. It's not as interesting in a way to be a writer when you come to grips with that. You want to believe characters are controlled by the events in their lives, but that happens so much less than you'd think."
Getting older makes us all cynical about younger generations.
Patience's Jack Barlow has a gruff exterior and drips with contempt for all the dopes in his past who have no idea what lies ahead — and although Clowes has a reputation for being helpful to his younger colleagues, he still sees a lot of himself in Jack. "I think as you get older, you have a sense when you're talking to young people that they don't see who they really are," he says. "But we know, because we've seen how our friends developed from people like them. You have a much better sense of the true nature of people and how they'll turn out."
Then, he adds with a laugh: "It's often like we don't want to tell them the sad truth."
Clowes's own future is bright.
The movie version of Wilson is due out later this year, directed by The Skeleton Twins' Craig Johnson from Clowes's own script. But despite his past success in Hollywood, he has no plans to make movies his top priority. "Right now I'm really focused back on comics," Clowes says. "I've gotten a major lift from working on this book. That was the first time in my life where something this long never got soul-crushing. I wasn't at all happy to be done with it. I'm anxious to get back and do something else."