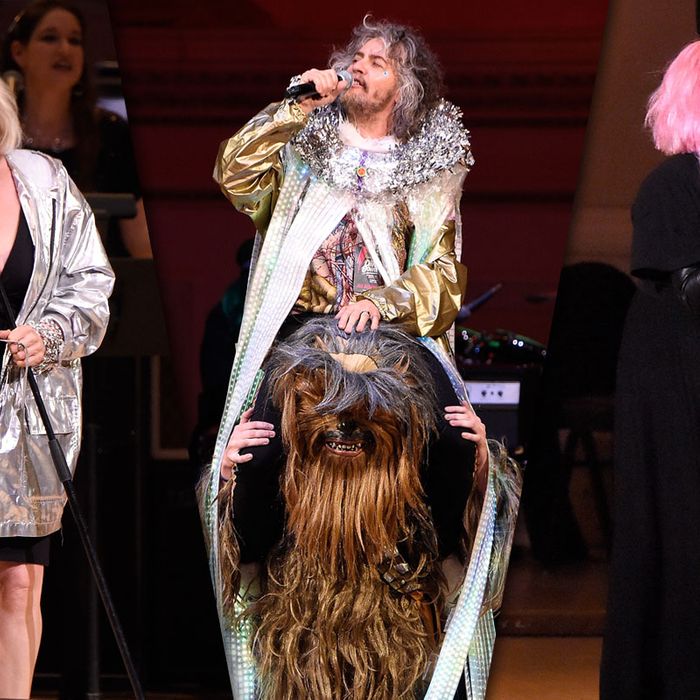 Photo: Kevin Mazur/Getty Images
There ought to be a mandate that, from now on, the Flaming Lips' Wayne Coyne show up at every David Bowie tribute singing "Life on Mars" while riding the shoulders of Chewbacca in a floor-length LED Technicolor dreamcoat. Coyne's appearance atop his ultimate furry was the greatest moment of spectacle and the penultimate performance of an eclectic, and often emotional, gathering of musical legends at Carnegie Hall for the first major tribute to Bowie since his death this January.
The concert had actually been on the books since last October, when producer (and City Winery owner) Michael Dorf had finally managed to convince Bowie, after years of courting, to allow other artists to fête him in the 13th installment of Dorf's annual Music Of series, which has previously paid tribute to the likes of Bruce Springsteen and Joni Mitchell. The plan was to have Bowie attend his own show, and many thought he still did, in spirit. "David Bowie was a hippie before he was a spaceman," said national treasure Michael Stipe, before launching into "Ashes to Ashes" with model-singer Karen Elson, "and whether he is here in this room, he is most definitely here in this room."
The evening began with a Cyndi Lauper rendition of 'Suffragette City" that my seatmate aptly described as "spirited and sloppy as hell." But the love was evident. Love was everywhere in that room, in fact, with many artists, including Stipe, Lauper, Deborah Harry, Perry Farrell, Ann Wilson of Heart, and Rickie Lee Jones receiving standing ovations as soon as they stepped on the stage, and then again after they'd played.
More rare were performers who could get the whole Carnegie Hall crowd to their feet mid-performance; the Roots, true to their word, didn't show up, after a clash over shared equipment with house band Holy Holy — a band created by Bowie's longtime producer Tony Visconti and his former drummer Mick (Woody) Woodmansey to play David Bowie songs — and whatever up-tempo funk they might have brought to their planned interpretation of "Aladdin Sane" and "Fame" with Tariq and Bilal was sorely missed. Deborah Harry, leading a mass singalong to "Starman" with Matt Katz-Bohen, was an early champ, though, as were soul legend Bettye LaVette, doing a version of "It Ain't Easy" that she and Bowie had both recorded separately in 1972, and Ann Wilson of Heart, strutting in a silver sequined dress and bright orange wedges and wailing like the rock goddess she is on "Serious Moonlight," and proving how well-suited Bowie songs are to female vocalists.
As seemed fitting for a Bowie concert, there were constant unexpected tonal shifts, such as Joseph Arthur's mostly instrumental, distortion-filled rendition of "The Man Who Sold the World," which he finished by unfurling an American flag scrawled with the words, "FUCK TRUMP," and a bizarre, delightful, and somewhat countryish acoustic team-up between Dinosaur Jr.'s J Mascis and Sean Lennon for "Quicksand." Another son of a legend, Jakob Dylan, sang "Heroes," a song his band the Wallflowers had done a popular cover of in the late '90s, in refreshingly straightforward fashion. The Pixies also reunited for an aggressively screechy rendition of their song "Cactus," which Bowie had covered. Perry Farrell couldn't stop grinning while doing "Rebel Rebel," wearing a wide-brimmed black hat and floor-length black trench that made him look not unlike the Wicked Witch of the West. (I dug it.) And then, of course, there was the great Wayne Coyne, atop another Flaming Lip dressed as Chewbacca, telling us to look at those cavemen go.
Call this reporter a sap, but I loved the heartfelt slow songs the most, such as Rickie Lee Jones's acoustic "All the Young Dudes," and Cat Power's beautiful version of "Five Years," which she ended holding back tears, alternately clasping her hands over her heart, or pointing skyward. It wasn't clear if she was just relieved to have gotten through it, or if she was filled with the spirit of Bowie, or both. Best of all might have been Stipe and Elson's mournful "Ashes to Ashes," with her looking ethereal and Tilda Swintonesque in white and him in his Gandalf beard doing interpretive dance alongside.
Asked afterward why he chose that song, Stipe said, "[Bowie] was revisiting an old character with that song and I think the hardest thing for us as artists and songwriters is to do exactly that, to go back to a song that is so beloved and so well-known and update it 20 or 30 years later. It's very inspirational." Stipe said he'd never played with Bowie, and Bowie had never come to see R.E.M., but they knew each other socially, and he was a fan. "The last time I saw him," Stipe said, "Chris Martin had invited me over to his apartment and he didn't tell me that Davie Bowie was in his living room, so I walk in and there he stands. I was like, 'Hi, David. Nice to see you.' I was kind of shocked. We were never close but I admired him, and we met and had dinners and whatever from time to time." What did he admire most? "Bowie allowed for magical emotions, like Nina Simone. For me the two of them are, as songwriters, as performers, as icons, somewhat interchangeable."
The best moment of the night, though, had to belong to the finale, when all the evening's performers, along with two choirs (Choir! Choir! Choir! and the New York City Children's Chorus), and the entire audience, sang "Space Oddity" in unison, in what felt like celebration and mourning simultaneously. "Bowie's songs never seemed very sad when he sang them," said British rocker Robyn Hitchcock, who'd sung "Soul Love" earlier in the night. "But when other people sing them, especially because he's gone, there's a whole level of poignancy that I didn't usually feel about Bowie. He never had a voice that made me cry. He wasn't like Lennon or Dylan or even Lou Reed. I never got a lot of emotion off his voice, but hearing the songs, especially with so many voices, the mass choir of humans all singing 'Ground Control to Major Tom,' was much more poignant than I would have thought." It wasn't the song itself that he'd been feeling, so much, but the emotion that welled up in people as they sang it, and remembered back to when Bowie had transported them with him to outer space. "It's been part of their lives for 47 years since it came out, so it's ingrained in people's DNA," Hitchcock continued. "In a way, people are saying good-bye to part of themselves. Maybe that's what we cry for at funerals."