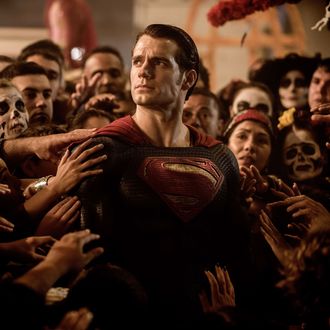 Lex Luthor's convoluted plan to kill Batman and Superman may fail (that's not a spoiler; if you genuinely think the first movie of a tentative franchise will kill its title heroes, bless you and your beautiful innocence), but it may have had massive collateral damage: ticket sales for Batman v Superman dropped a whopping 68.4 percent in its second week, which is only three points higher than the inverse of the film's Rotten Tomatoes score (29 percent). It made $52.3 million in its second week, which is certainly not a small amount of money, but that 68.4 percent drop is the fifth-steepest drop for a film that opened with $100 million. It's also about the same drop as last year's universally despised Fantastic Four, a movie poisoned by awful reviews, on-set turmoil, and that wig.
The huge drop in ticket sales may not really matter, though — Harry Potter and the Deathly Hallows Part 2 dropped 72 percent, and that movie did alright. BvS, which does have some good qualities that we conveniently aggregated into a list for you, was met with a less-than-enamored response from fans. In particular, Snyder's decision to have Ben Affleck's disconcertingly buff Batman kill copious lackeys was, as Lex might say, a bell that cannot be unrung. Its worldwide cume after two weeks is currently $682.8 million, which is more than the entire global returns of Man of Steel ($668m), Thor: The Dark World ($644.6m), Iron Man 2 ($623.9m) and Iron Man ($585.2m), but its chances of cracking $1 billion are dwindling. C'est la vie.
Zootopia, which has significantly less destruction than Zach Snyder's film (any of his films, really), had one of the best fifth weeks ever, making $20 million for a domestic haul of $275.9 million. It's on pace to become the tenth animated film to gross over $300 million. It has a worldwide cume of $787.6 million. Richard Linklater's gloriously gay 1980s college-bro chill flick Everybody Wants Some!! flexed its well-toned arms, making $323,000 on 19 screens. Less widespread (and less gay) was Vaxxed, the pseudoscience documentary that was expunged from the Tribeca film festival after everyone with Wi-Fi expressed outrage over the film's inclusion. It made $22,000 playing on one screen in New York.