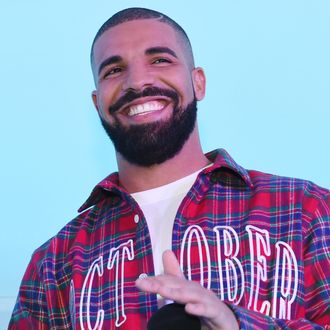 Photo: Ron Turenne/Getty Images
Coinciding with his highly anticipated Views release, Drake sat down Thursday night with Zane Lowe for an exclusive OVO Sound Radio interview. The rapper quickly teased new material, noting he'll have "a whole arsenal of songs that don't even have to do with Views," by the time the Summer Sixteen tour begins. The duo's lengthy chat also spanned topics ranging from his mom's life advice, to his future in acting, to his relationships with a handful of collaborators and friends. Read on for the highlights:
On the Success of "Hotline Bling" and Making Great Music
You just take it for what it is … It was unexpected, I recorded it in a hotel room in London … I remember my camera man Theo … he was like, 'I didn't get it.' … That's almost an emotion that I search for. I don't want you to get it right away. If you get it right away, there's no risk being taken. If you're able to wrap your head around it … that's not what great music is. Great music takes a little work on your part. It takes you almost maybe elevating your listening level and becoming a bit more of a sophisticated listener because of a song or because of an album.
The Throne's Erased "Verse" on "Pop Style"
I just ended up going with my version of ["Pop Style"]. Jay didn't really do a verse [laughs]. Really, I was trying to get 'Ye on it at first, and 'Ye just sent it to me like that. Like, Yo, Jay just kind of did my first few lines for me, and he was just here, and that's how we flexed it. It was cool, you know, and he was excited about it: Yo, put the Throne, it'll be a crazy moment. I mean, of course, people want to hear Jay Z rap, right? So hearing him do two lines might be frustrating to a certain audience.

I was just having [a] conversation with Kanye, and that landed in my lap. So I dealt with it accordingly, and it didn't exactly play out how I would've wanted it to, as far as business or whatever goes, so I figured it would be easier to go with my version. I've expressed my admiration and respect for Jay countless times; that'll never change. Sometimes we just fall on opposite ends of the spectrum when it comes to the rap world, and again, it's always mutual respect, but sometimes it has to be from afar.
On His Friendship With Kanye (and Their Potential Mixtape)
Me and Kanye, I take pride in being Kanye's neighbor. I take pride in our little community of Calabasas [in California]. … We'll just sit and collaborate, that's what music is about. We have a few things that we've worked on, and it's always just about finding a place for it. With him, you never know: He might call me tonight, and be like, Yo, these two songs that we did are coming out.

But definitely, 'Ye is one of my favorite people period, in the world, man. I love 'Ye, man, he's a really good guy. I grew up with him as a role model, I've always given him that credit, that he's part of the reason that I'm even here right now, that he's opened doors for us. It's amazing to be his friend, I think we have a really great friendship. We have one of those friendships that you don't really get often in rap, because we can link each other and discuss anything. Whether it's you feeling a way about this, or us working on this, or just leisure talk, it is what it is — we have a great relationship. We had plans, we were supposed to do a mixtape together, album together, so maybe we'll get that done.
On His Work Relationship With Rihanna
We do well together as a team … I think we do great music together. It's tough to do guy-girl collabs … I think [the chemistry] is what makes the records better, though. It's something genuine there. We're not forcing some story on people. A lot of the music that we make and the energy that we bring is genuine. We have a lot of genuine energy between us.
On the Weeknd
Yeah, I mean, at the end of the day, that's my guy. We're from the same city, we grew up with the same goal, trying to do this — a lot of the time we spent trying to do it together. There are memories I'll never forget, times — we spent real time, not like other artists have, like real time, we put in real work together. I'm proud of his success. We've both had our moments, where we've maybe felt away, and taken it maybe a little left, but I can sit here in front of you and say I have nothing but love for everybody over there. I loved watching him last year, it made me super happy. What a year, and well deserved … I've never gotten the chance to tell him, but I send him all my blessings. I could never really want any ill for him.
The Birdman, Lil Wayne, Young Money Drama
It's tough, to be honest with you, it's tough to watch. I have a mutual respect for both guys and I pray every day that it gets worked out and we all find an amicable place again one day … that's business, man. Obviously that's our new form of entertainment. At the end of the day it's a situation that I pray gets resolved because it's people's lives and it's a legacy. I don't want to see that. It was amazing to see Kobe go out and score 60 points. I want to see them go out and score 60 points.
His Current Standing With Nicki Minaj
I don't really talk to Nicki. Again, another person that I have a lot of love for and a lot of respect, not only for our past and how much work and time we put in, but even just the way she dealt with the situation [regarding Birdman and Lil Wayne] at hand. I understand what love is, and I understand a personal situation. She dealt with me how I would expect her to, which was with class, and I could only ever do the same. There were points in time where I was waiting to see like, how is this going to go, how deep is your love, you know? You gotta ask yourself that. I always have respect and love for Nicki, and unfortunately we haven't spoke, but it is what it is, even if we don't speak, she knows what it is, it's always love.
The Best Advice From His Mom

My mom has this thing called the 72-hour rule. It happened years and years and years ago, the first time I ever had … it was just when the culture of the internet, like the blog-gossip culture, was happening, and they edited some picture of me and my cousin. I was like, Oh, this is it! Everyone is going to believe this, look at the edit. It was crazy, something crazy. My mom said to me, "You know what, you'll go to sleep tonight, you'll wake up and it'll still bother you. Then you'll go to sleep again and you'll wake up and it'll bother you a little less. And then on the third day, you'll wake up and someone else will have done something stupid enough that everyone will forget." That's the 72-hour rule. I've learned to control my emotions for those first two or three days. That's why I don't run to social media and start yapping about my anger or my frustration, I let it sit, and it always go away.
On His Dad
Man, the most valuable piece of information from my dad is don't mix Virginia Black [Whiskey] and Vodka Water — no, my dad is a legend, man. Sometimes I wonder who the superstar is … I think he has a girlfriend now, but before that I was feeling like I was living a lackluster life, because my dad goes so hard. I'm telling you, he's the real star, but I've grown to have appreciation for the man that he is … I'm very blessed to have a perfect balance between my parents: My mother has taught me a lot about being able to deal with all the stuff the way I do, and the poise that I can possess … my mother's really the reason I don't do drugs — of course, I'll drink and smoke or whatever, but that's never been my thing, I've always kept it pure for my mom's sake. My dad is where I get the whatever you want to call it.
His Future in Acting

I got something nice coming up in May. And then, yeah, I'd love to come back to acting. I feel I've spent a lot of my life honing that craft. I'd like to go back … [movies are] the goal. It's all about the right decisions and picking the right first project and second project. Crucial, right? That was one of the most important things Jamie Foxx ever told me: "Before you pick [a first film] come and tell me, because if you pick the wrong one you're forever labelled as this type." That's probably why I've yet to be decisive on it … It's kinda out there that I'm working on Top Boy, working on these little things.
Watch the full interview below: