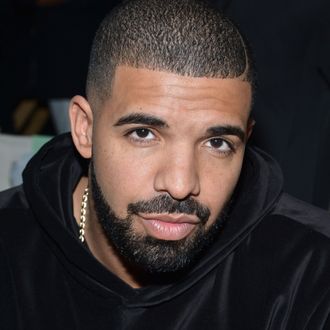 Thanks, Papi.
Photo: Grant Lamos IV/Getty Images
Drake wasn't lying: His new album will indeed have 20 songs, and now we know all 20 of their titles (but not the features, because he can't just give it all away). We also now know that it probably isn't called Views From the 6 anymore — just Views, for short. And how do we know all this? The man tweeted the tracklist himself:
Please note the song called "Grammys" (he only has one, for now), the absence of "Summer Sixteen" (the song his new tour is named after), inclusion of "One Dance," "Pop Style," and the recently leaked "Controlla." Oh, and "Hotline Bling" made the cut, but it's been demoted to bonus track. Gauge how good the rest of the album must be from that however much you'd like. Drake's new album, whatever it's called, debuts on Beats 1 radio on Thursday at 10 p.m. EST. While you wait, have fun playing this silly game that allows you to drop Drake off the CN Tower he was never actually on and thank us later (hehe).