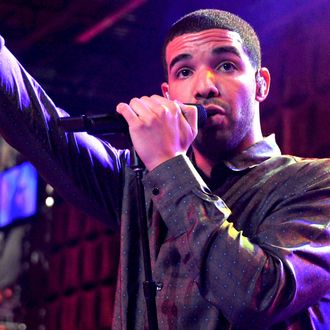 Drake.
Photo: Theo Wargo/2012 Getty Images
After the Views From the 6 art dropped via social media Sunday night, initial reactions ranged from, Wow, CN Tower, so cool! to Wow, Photoshop, not cool? The cover, shot by Caitlin Cronenberg and art-directed by Nicky Orenstein, shows the daring rapper dangling his legs off the Canadian landmark, soaking in Toronto's sights. (As one Twitter user points out below, it's kind of like he's an impressive Elf on the Shelf.) Regardless of where fans and haters stood, though, it didn't take long for the internet to collectively realize this would be a great opportunity to put tiny Drake atop more objects or to swap him out with other people. Marketing win? Here are the highlights:
And for everybody who was waiting for Beyoncé's Lemonade to (not) hit iTunes at midnight:
Views (looking like this) comes April 29.