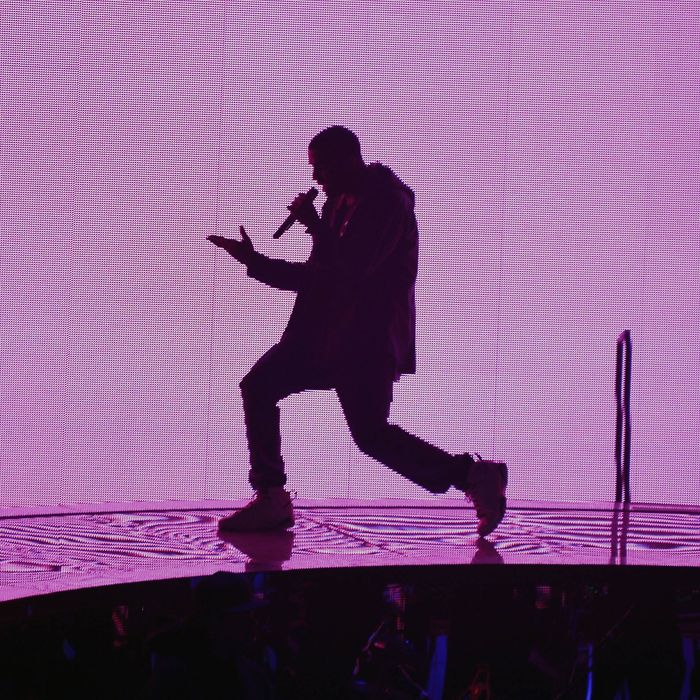 Drake, Drakeing.
Photo: Stephen Lovekin/Getty Images
Well would you look at that: An album, in 2016, actually landed on semi-schedule. Drake's Views (f.k.a. Views From the 6) has arrived! His fourth "proper" album (depending on how you count these things) hit iTunes and Apple Music — where it will remain an exclusive for a limited time — just before midnight on Thursday, complete with an in-depth interview on Zane Lowe's Beats 1 Radio. But like anything Drake does these days, Views isn't just an album — it's a megameme event. To catch you up to speed on all the latest controversies, possible Meek Mill disses, and failed attempts at romancing Rihanna, we broke down all 20 (!) Views songs, below.
"Keep the Family Close"

In Drake's interview with Lowe, he described Views as a passing of the seasons in Toronto, from winter through summer and back again. "It's a little chilly out there," an unidentified woman says, introducing what's about to be a long lamentation on severed relationships. "And it's all because you chose a side / You're supposed to put your pride aside and ride for me / Guess it wasn't time / And of course you went and chose a side that wasn't mine," he sings on the song's bridge, over a full-on orchestra. (Drama King, that Drake.) Is he talking about Nicki Minaj and Meek Mill, Lil Wayne vs. Birdman, XYZ woman, or all of the above? As usual, Drake's tea is served at room temperature, so, like him, we don't know what's going on, either. It closes with yet another unidentified woman (a theme for Drake) bragging about not being afraid of "no gyal or man," "no cyattie," or "no waste yute" — so be prepared for Drake to lay the Caribbean maybe-appropriation on thick soon.
"9"
Ah yes, the first of many self-aggrandizing victory laps to come. Here, we get Drake claiming to be "MJ in every way" and having "turned the 6 upside down, it's a 9 now," in reference to the mark he's left on what was once the album's sort-of titular city. It samples dancehall legends Mavado and Serani's "Dying." (Hey, remember when Mavado had Drake killed in the "Find Your Love" video? You do now.)
"U With Me?"
This is the only song on Views to include Kanye West (more on that later) and he appears via a co-production credit with Noah "40" Shebib (who, as usual, produced half the album). And yes, that voice you hear at the beginning asking, "What these bitches want from a nigga?" is DMX, from a sample of "What These Bitches Want?" The rest of the song samples DMX's "How's It Goin Down," an unexpected choice considering DMX's previous harsh words for Drake. (Though apparently we can thank N.O.R.E. for squashing the beef long enough to clear the sample.) The song goes on to detail exactly why playing late-night mind games with Drake will almost always backfire. "You toyin' with it like Happy Meal," Drake raps. Major third-degree burn. (An arguably better shot fired: "A lot of niggas cut the check so they can take this flow.")
"Feel No Ways"
This sexy '80s-toned slow jam comes to us by way of OVO campers Majid Jordan (specifically Jordan Ullman). It chops up Malcolm McLaren's "World's Famous" and will absolutely have you feeling many ways by its end — like, for example, the way to the bedroom.
"Hype"
A lot of you will have tuned into Views for that inevitable Meek Mill diss, and well, Drake has something like it for you here. But that's only if you really read into lines like this: "I don't run out of material / You shouldn't speak on me, period / You try to give 'em your side of the story / They heard it, but they weren't hearing it / They feeling the way and won't hide it / Niggas done being silent / Don't get along man, we tried it." And this: "After this there's no one to threaten me." It's here that Drake also declares "Views already a classic" and we get our first Rihanna shout-out ("Don't you see Riri right next to me?"), because Drake is nothing if not a one-man hype machine.
"Weston Road Flows"
Every Drake project has its requisite nostalgia track; "Weston Road Flows" is that for Views. Over a sample of the sublime Mary J. Blige deep-cut "Mary's Joint," Drake gets introspective about the street on which he grew up (referencing his "momma" again), how fast life has come at him since then, and when he'll hang it up ("The most successful rapper 35 and under … That's when I plan to retire"). But leave it to our greatest-living meme to reference another meme, even on a track that aims to get deep: "I'm lookin' at they first week numbers like what are thoooose?"
"Redemption"
What's a Drake album without an "I used to know you when" petty party in which Drake gets ultra possessive about women who have since moved on? Such a thing does not exist, and so here we have Drake spilling his male tears with lines like "I miss the feeling of you missing me," once again name-checking his exes — including the infamous Erica from "Marvin's Room" — and wondering if they still listen to his music and think about him. (Drake, they have lives. Let it go.)
"With You"
OVO signee PartyNextDoor returns for more, ahem, "shenanigans" with his label boss, who finds himself in peak emo form: "Mixing vodka and emotions, tapping into your emotions / Dry cry cause I'm hopeless." Joining them in their lovelorn despair is none other than Jeremih (though uncredited), who sings with PND on the hook.
"Faithful"
A$AP Rocky isn't the only young rapper with an H-Town obsession to resurrect the late, great Pimp C. "Faithful" samples Pimp's verse from "Tom Ford (Remix)" and features the newest OVO signee, dvsn — and all his '90s throwback sensuality. Drake's hook goes like this: "Working, working, working, working, ain't ya? / You don't have no time to lay up." Now if that's not a wink at his and Rihanna's "genuine energy," what is?
"Still Here"
Any album bloated with 20 songs is bound to have filler. At its halfway mark, we've finally reached Views' first truly skippable song. (Unless you're from Toronto, then "hallelujah, hallelujah, hallelujah" to your heart's content.)
"Controlla"
To the ire of every West Indian on the planet, this wonderful Song of Summer candidate has now been tainted with controversy. The distinctly Caribbean-influenced original leaked weeks ago, and it then featured the Jamaican dancehall artist Popcaan. But fans expecting to hear Popcaan — especially after Drake teased his feature earlier on Instagram — will instead now find a sample of Beanie Man's "Tear Off Mi Garment" where Popcaan's verse once stood. Shady. Oh, and it gets worse; this story is to be continued a few songs later.
"One Dance"
The latest product of Drake's newish Caribbean-Afropop muse — and the one that might just give him his first solo No. 1 hit in the U.S. — "One Dance" comes courtesy of the Crazy Cousinz remix of Kyla's "Do You Mind."
"Grammys"
Drake has one Grammy to his name; Future has never been nominated. And yet, as he proved on their What a Time to Be Alive collab, Future consistently bests Drake when they're together on the same track. Drake might brag here about already deserving Rock and Roll Hall of Fame recognition and why it's no longer debatable that he's a Top Five all-time rapper, but when Future comes along with flexes like "They want me to go to the Met Gala, I want a Percocet and a gallon," it just makes Drake's reverence of such accolades look silly.
"Childs Play"
There's a lot we could talk about with this song (like the fantastic New Orleans bounce sample!), but all you need to know is that Drake loves the Cheesecake Factory and hates any woman who would dare embarrass him there. "Why you gotta fight with me at Cheesecake / You know I love to go there … This a place for families that drive Camrys and go to Disney / They don't need to know all of our business," he raps, seriously. Brace yourselves for that shameless corporate tweet coming at you in 3 … 2 …
"Pop Style"
Oh, don't worry, Popcaan wasn't the only one who got nixed from Views. "Pop Style," which was originally released as featuring the Throne (a.k.a. Jay Z and Kanye), is now just a solo song — the same Throne-less version Drake previously played on Beats 1 radio. As Drake explains it, their omission isn't intended to be a diss or shade. It's more like he heard your jokes about Jay Z's godawful two-bar cameo and decided to spare his mentor even more public ridicule than he's already endured for one week. (Or so Drake sort of explained to Zane Lowe was the reason for their absence on the final track.)
"Too Good"
Aubrih are back at it again, now for their fourth song together — and second island-flavored probable hit. (Just release an album, guys!) You can ship them all you want, but sadly for Drake, Rih has quarantined her biggest fanboy to the friend zone once and for all: "And last night I think I lost my patience / Last night I got high as the expectations / Last night, I came to a realization / And I hope you can take it," she sings. That realization being: Boy, bye. Remember the Popcaan controversy from earlier? Adding salt on that wound, here Drake interpolates Popcaan's "Love Yuh Bad" (in that faux-patois Drake keeps doing), and even samples the song at the end.
"Summers Over Interlude"
You've heard from one half of Majid Jordan (on production), now here's the other: that's Majid Al Maskati crooning all over this moody interlude.
"Fire & Desire"
In his interview with Zane Lowe, Drake says he no longer speaks to Nicki Minaj, a sad truth he's all but outright acknowledging on this song. "Look, you know I'm a writer, nothin' left to hide / Your other nigga tired," he appears to rap, over a sample of Brandy's "I Dedicate Pt. 1" — as if the message wasn't clear enough who this is for.
"Views"
Well, hot damn, the snippet of the Winans' "Question Is" that Drake once used as his tour intro is back! And now it's a sample on the title track, which in the span of five minutes manages to reference Christian Bale, his totally normal love life ("My exes made some of my favorite music / I dated women from my favorite movies"), running through the 6 (yes, still), and the most self-aware lyric Drake has ever (possibly not) written: "If I was you, I wouldn't like me either."
"Hotline Bling"
This needs no explanation.