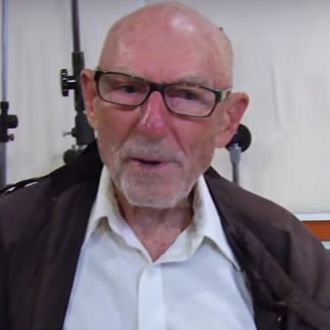 Erik Bauersfeld, the dramatist and voice actor known especially by Star Wars fans for his roles as Admiral Ackbar and Bib Fortuna, died Sunday at his home in Berkeley, California. USA Today confirmed the 93-year-old's death with his management late Monday. "[Actor Erik Bauersfeld's] passing comes at the age of 93 and the cause was natural causes," read a statement from Coolwaters Productions. "Erik will be deeply missed by his family here at Coolwaters and our thoughts and prayers are with his family and friends."
Star Wars fame aside, Bauersfeld worked in radio for much of his professional life: Beginning in 1961, he joined KPFA, in Berkeley, as a performer and editor for the drama and literature department. Quickly promoted, he then served as the department's director, producing radio shows and interviews from 1962 to 1991. It wouldn't be until the '80s that Bauersfeld dipped into movies, with Return of the Jedi.
"The voice work I did in movies was accidental," Bauersfeld explained on the website for Bay Area Radio Drama, a nonprofit production corporation he formed in 1987. He was offered a brief audition, which yielded Ackbar and Fortuna, while visiting Lucasfilm for an unrelated radio job. "[Onscreen voice-acting] wasn't an occupation I had time to pursue unfortunately, but for me the art of sound design in film making was brought more and more into how radio drama might be enhanced."
Though film never fully consumed him, Bauersfeld still went on to narrate a handful of national park IMAX projects, and received voice credits on A.I., Crimson Peak, and a Star Wars video game. Here's a 2012 interview, in which Bauersfeld discusses his SW audition process:
The actor delivered Return of the Jedi's now-famous "It's a trap!" line, and most recently reprised Ackbar in The Force Awakens.
This post has been updated throughout.