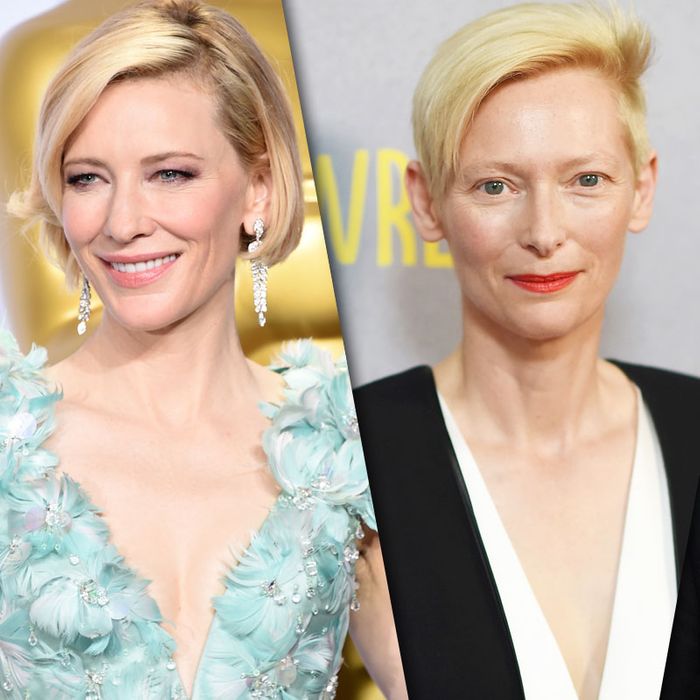 You would think that Michael Keaton was over superhero movies. After all, he ditched the Batman franchise two films in (despite promises of a massive payday for the third installment) and doubled down on demolishing that past life in the superhero-satirizing Birdman. And yet this week we learned that Keaton is in talks to appear in the first installment of the second reboot of the Spider-Man franchise, Spider-Man: Homecoming. Keaton, who reportedly thought that the Batman films were too focused on their comic-book villains, would be playing a comic-book villain himself.
On some level, this is a surprising about-face, but if you've been paying attention to the superhero-saturated film landscape as of late, it shouldn't shock you that someone like Keaton has been sucked in by the Marvel tractor beam. Just this past week, we also got the first trailer for Doctor Strange, co-starring Oscar winner and art-movie veteran Tilda Swinton, and Marvel is about to go into production on Thor: Ragnarok, which will give the revered Cate Blanchett her first comic-book role. These used to be treated as casting coups — like when the venerable Hollywood icon Robert Redford agreed to play the bad guy in Captain America: The Winter Soldier — but nowadays, comic-book castings of that magnitude come every few weeks. Just as every British thespian of note was once guaranteed a spot in the eight-film Harry Potter franchise, so too does it seem like the sprawling, interconnected world of modern superhero movies will now snag just about every A-list actor.

These days, there are few outliers: Even Joaquin Phoenix, whose antipathy to global press tours and cookie-cutter Hollywood filmmaking is more than evident, flirted for months with starring in the franchise-starting Doctor Strange. Will Smith, who turned down Django Unchained because the main character didn't seem main enough, is now more than happy to be an under-emphasized member of the ensemble in DC Comics's Suicide Squad. And if you're a young male actor, superhero films are one of the only ways left to truly establish yourself as a movie star. Just ask Marvel's holy trinity of Chrises — Chris Pratt, Chris Hemsworth, and Chris Evans — all of whom found their signature, star-making role in a superhero franchise.

Take a look at the actors on Vulture's Most Valuable Stars list for further evidence of how far-reaching the superhero trend is. Of the actors listed in the MVS top ten, five already have steady work in big Marvel franchises — including our list-topper Jennifer Lawrence, as well as Robert Downey Jr., Scarlett Johansson, Bradley Cooper, and Hugh Jackman — while two more, Channing Tatum and Dwayne Johnson, have signed on for comic-book movies yet to shoot (as Gambit and Black Adam, respectively). Of the three top-ten holdouts left, Tom Cruise seems the likeliest to next strike a deal with Marvel or DC, since the actor recently signed on to front a reboot of The Mummy simply because he had a gap in his schedule that he wanted to fill with blockbuster product. Sandra Bullock has been enormously choosy since her Oscar win, but after Our Brand Is Crisis flopped, a bulletproof Marvel movie might seem like just the right box-office comeback. Only Leonardo DiCaprio seems immune to the charms of starring in a superhero movie, though it's not for lack of wooing, since he was pursued for Spider-Man and Batman and Robin. (He's also worked for one of the modern masters of superhero filmmaking, Christopher Nolan.)

In fact, every superhero lead in the Marvel and DC movies appears on our Most Valuable Stars list, and many of their love interests do, too, including Natalie Portman and Amy Adams. That the genre could attract such Oscar-friendly women, and plenty of other unlikely Oscar-winning talents like Swinton and Blanchett, should indicate that the comic-book movies have won the Hollywood arms race. It's now almost an expectation that a full-bodied movie-star career will contain a role in, or adjacent to, tights and a cape, and the stacked ensembles of superhero team-up films offer such a wide variety of parts — from star-making leads to supporting character roles to flashy villains — that nearly any sort of actor can find some sort of place there.

Is the casting dominance of the superhero genre a good thing? Well, it's not as bad as it could be: The Marvel movies are high-quality product and the actors get plenty to do, while anything that casts Robin Wright as a fierce Amazon has my co-sign. Even our most respected actors have to take a paycheck gig now and then, and if it comes from the smoothly running superhero machine, that's just the reality of modern-day moviemaking. People will wring their hands when Meryl Streep eventually signs onto a Marvel movie, but I guarantee you it's gonna be better than The Giver.

Still, there's something ironic about all these actors making the long-term commitment to several movies of superhero cross-pollination, since that sort of continuity is more television–like than movie stars used to aspire to. It also robs some of these great ensembles of their heft: If you told me I could go see a movie starring Chadwick Boseman, Elizabeth Olsen, Paul Rudd, Scarlett Johansson, and Don Cheadle, I'd be so psyched to watch those actors face off. But when they're all appearing in the stacked cast of Captain America: Civil War, I don't even feel the frisson of great actors all signing onto one project — I'm just thinking about their familiar characters, like Black Widow and Ant-Man, going toe-to-toe. When Al Pacino and Robert De Niro finally faced off in Heat, it felt like a seismic clash of Hollywood icons, but in superhero movies, a dozen A-listers can casually share the screen in a way that almost sublimates their extra-textual star power.

Perhaps that's just part of the package, though. If superhero movies are now bigger than anything in Hollywood, it makes sense that they would dwarf even the movie stars in them, while still managing to draw more of those top-tier actors into their juggernaut fold. I don't see the superhero bubble bursting anytime soon, and as their acclaimed new hires continue to give the genre a shiny veneer of respectability, you can pretty much expect every actor you love to show up there sooner or later. Marvel's residual checks might be meager, but before long, everyone in Hollywood will find them in the mail.