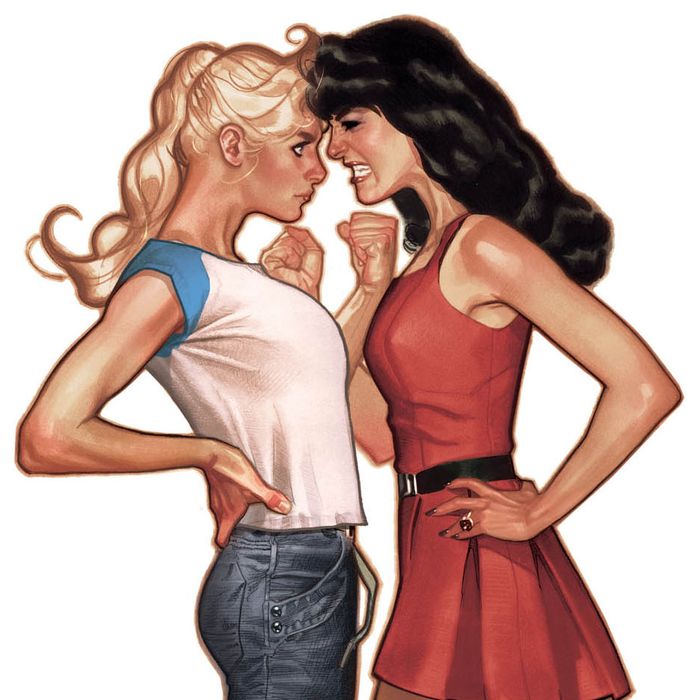 The titular frenemies.
Photo: Adam Hughes/Archie Comics
There are plenty of memorable frenemy pairings in entertainment: Helena and Hermia, Vladimir and Estragon, Blair Waldorf and Serena Van Der Woodsen. But in the world of comics, one tense duo rises above them all: Betty Cooper and Veronica Lodge. The two Archie Comics characters have been at odds since the 1940s, squaring off over the affections of Archie Andrews and dissing one another's lifestyles. But this summer, their rivalry will enter a bold new chapter with the debut of a rebooted Betty & Veronica comics series, written and drawn by Adam Hughes. The 32-page first issue will hit stands on July 20.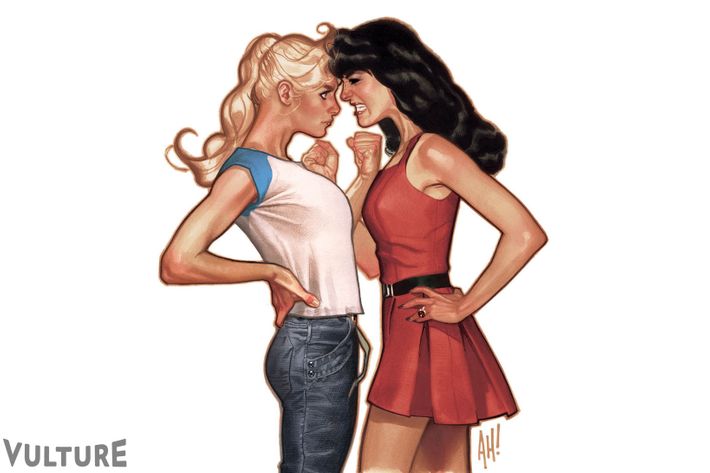 Archie Comics has been in the midst of a wave of reboots in the past year or so. Archie and Jughead have both received sleek, modernized, acclaimed relaunches. Last spring, the publisher announced plans to also tackle Betty & Veronica as part of a controversial and canceled Kickstarter campaign, and now the relaunch is finally happening. The stakes in the first storyline are high, according to an official announcement given exclusively to Vulture: "Pops' Chocklit Shoppe is being taken over by a huge coffee company," it reads. "When Betty and Veronica go head-to-head over the issue, all bets are off! Friendships will shatter. Cities will burn. Nails will be broken."
"Why is there a Betty & Veronica comic when they already appear in Archie?" Hughes asks in an email interview. "It's good to have a book where it's just about them, where the boys are just background characters." As with the other new Archie Comics series, the goal here is to reach out to comics buyers who might not otherwise pick up an Archie book in a checkout aisle. "I want my Betty & Veronica to be timely and relevant, but not dated in 10 years," Hughes says.
Readers will no doubt find themselves deciding whether they identify more with the refined Veronica or the modest Betty, and Hughes has already made his choice. "I'm Team Betty, all the way," he says. "That being said, Veronica Lodge is delicious good fun to write." One thing we can all agree on is that these variant covers for issue No. 1, made by some top-notch talent, look gorgeous: