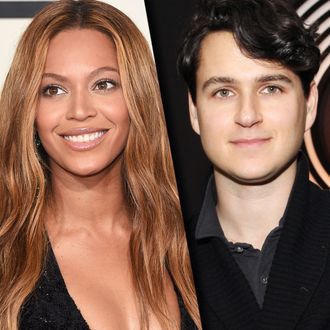 Music is a flat circle.
Photo: Getty Images
If you look closely at Beyoncé's Lemonade credits, there are a few head-scratchers throughout — in particular, a random appearance from Vampire Weekend's Ezra Koenig. Sure, Bey and Hov have Chella'd it up with indie dudes before, and Jay and Ezra have at the very least been photographed together. But who could've predicted a tweet dating back to 2011 would lead to Koenig getting credited as a co-producer and co-songwriter on Beyoncé's vengeful "Hold Up"? Technically, that's only part of the story.
As he's explained today — because, guys, "it's not that complicated" — it all started when he tweeted "hold up … they don't love u like i love u," a play on the Yeah Yeah Yeahs' "Maps," which is also credited on "Hold Up," because Beyoncé ended up using that lyric. But no, it wasn't just the tweet that got Ezra his coveted Beyoncé album credit: He also helped Diplo come up with the song, even ensuring that the Yeah Yeah Yeahs got their proper due. (Though he insists Beyoncé "100% made it her own," so don't even start.) Here's how it went down:
Oh, and if you're wondering how Father John Misty also got involved on the song, well, who knows? But here's him experiencing the feeling of waking up flawless, in real time:
Update: After telling a fake (but funny) story about his side hustle as an airhorn player, Father John Misty has spilled the tea about his involvement with "Hold Up" in a statement. And you guessed, the truth — which involves Beyoncé showing up to his 2015 Coachella set — is a much better story:
About a year and [a] half ago, my friend Emile Haynie played Beyonce some of my music, along with some tunes I've written for other people, back when she was looking for collaborators for the record … Pretty soon after they sent along the demo for "Hold Up", which was just like a minute of the sample and the hook. I'm pretty sure they were just looking for lyrics, but I went crazy and recorded a verse melody and refrain too that, unbelievably — when you consider how ridiculous my voice sounds on the demo — ended up making the record — right between picking up the baseball bat and decapitating the fire hydrant.

I was mostly kind of in the dark, my involvement with the record kind of ends with me just sending off the demo, it wasn't until she came to my Coachella set in 2015 and told me personally it had made the record that I really had anything concrete with which to convince my friends that I hadn't actually gone insane.