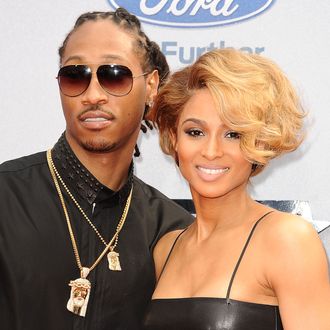 Times sure have changed.
Photo: Jason LaVeris/Getty Images
Future has responded to Ciara's $15 million defamation lawsuit, and it's not pretty. TMZ and the Jasmine Brand report that Future has countersued his ex-fiancée (with whom he has a son), bad-mouthing her career throughout it. In the suit, he reportedly refers to Ciara's last album, Jackie, as a "flop" (to be fair, Jackie had the lowest-selling debut week of any album in Ciara's career) and argues that her fame, including commercial and critical success, is currently not on par with his. He calls her fan base "reasonably large," but not large enough to support her claims that his alleged slander could hurt her reputation. In her original lawsuit, Ciara cited tweets in which Future called her a "bitch [who] got control problems," as well as interviews in which he insinuated that she was using their son for publicity. Future is now asking the court to block Ciara from bad-mouthing him (again, to be fair, she's now avoided saying his name altogether) and is requesting that Ciara pay for his legal fees regarding their dueling lawsuits.
Update: TMZ reports that Future has now dropped his countersuit against Ciara after being granted joint custody of Baby Future to avoid any further restrictions. Ciara's lawsuit against Future, however, is still ongoing.