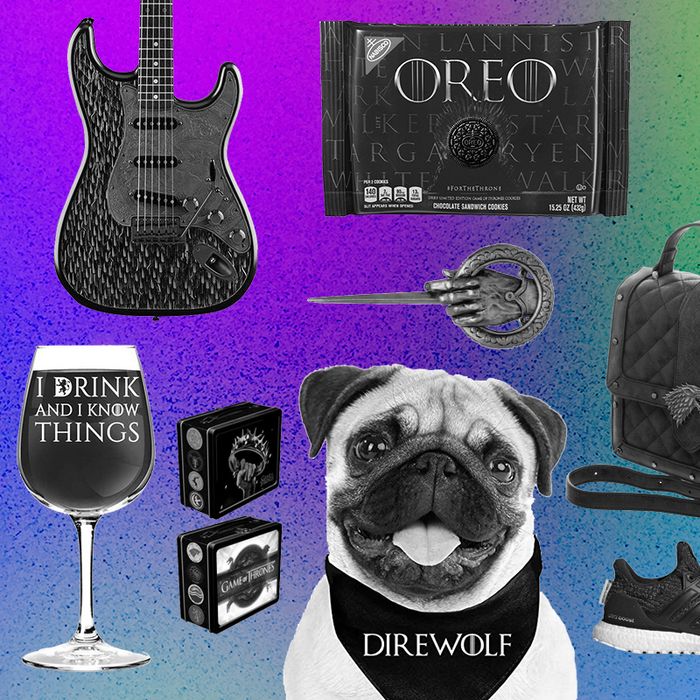 Photo: Courtesy of vendors
This story was originally published in 2016 and has been updated with even more Game of Thrones merch.
Yes, Game of Thrones has ended, and no, no matter what you believe, you do not have the Night King's power to bring it back from the dead. But you can still celebrate (or mourn) the finale in style — the cottage industry of Thrones merch still lives on because, to paraphrase the Ironborn, what is kitschy may never die.
By now you probably have the books and hopefully you snagged a pair of George R.R. Martin leggings before they sold out, but there's still so much more to collect: booze, games, jewelry, sneakers — even special items for Hodor lovers. Get them now or wait for gift-giving season, when some of the prices might be slashed deeper than Littlefinger's throat.
McFarlane Toys Action Figures
Are you unhappy with the events of GOT's series finale but not deluded enough to think that silly petition is going to change anything? Well, you can create any conclusion you desire with McFarlane Toys' line of six GOT action figures ($20 for humans, $25 for dragons). The set features characters involved in three of season eight's key pairings — Arya and the Night King, Jon and Dany, and Drogon and Viserion — so you can rewrite the events just as George R.R. Martin likes to think he eventually will. Or you can focus on the most important, emotionally resonant pairing of them all, Dany and Drogon, and just relive the throne-room scene until it finally stops making you cry. Westeros (and whatever's west of it) is your Blackwater Bay oyster. Buy it: $25 on Amazon.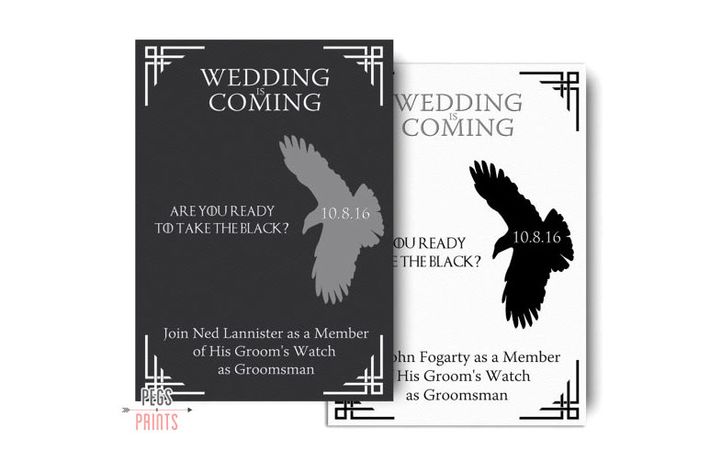 "Wedding Is Coming" Groomsmen Invitation Cards
You're getting married, and for some reason you want one of the most important moments in your life to involve the show where the biggest weddings involve gruesome deaths. Fine. Cool. Invite your best men to take an oath to be your Groom's Watch, with these customizable cards. What you make them swear to is up to you, but depending on your relationship with your in-laws, consider making the most expendable member of the group taste your wine and food before you eat. Buy It: $16 on Etsy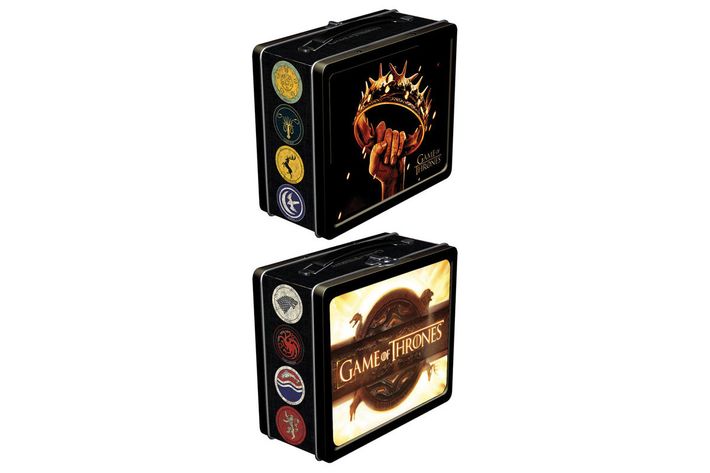 Game of Thrones Lunch Box
Come on. You can't bring your kidney pie, honey cakes, and Myrish oranges to work in a brown paper bag. This embossed tin lunchbox is the only way to go. Buy It: $15 on By the Sword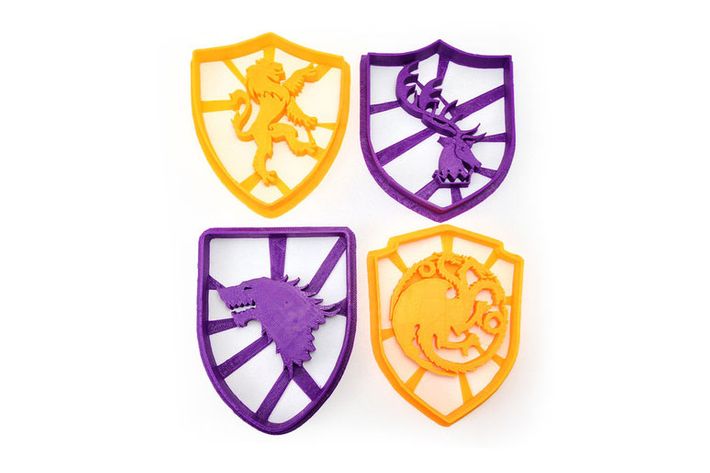 House Sigil Cookie Cutters
What do most cookies lack in their traditional form? A sense of life-or-death intrigue. Address that deficiency the next time you whip up a batch of chocolate-chip or peanut-butter goodness with these cookie cutters, which add imprints of the sigils of Houses Stark, Baratheon, Lannister, and Targaryen. As a bonus, you can get your children started early on bloody messes by letting them use the dishwasher-safe utensils with Play-Doh. Buy It: $20 on Warpzone Prints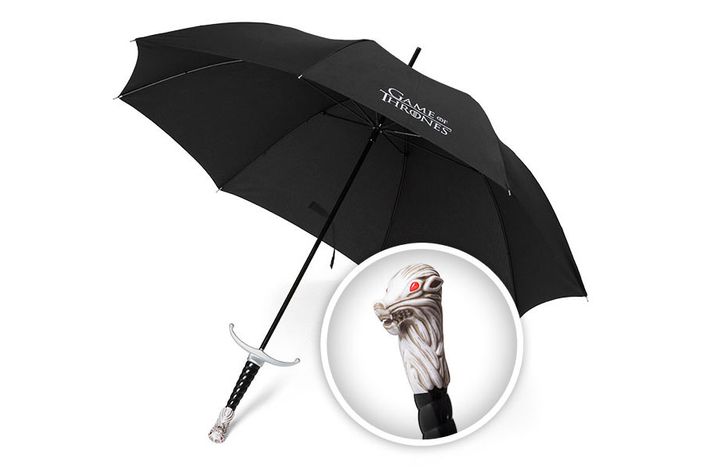 Longclaw Umbrella
This umbrella, with a hilt modeled after the sword of Jon Snow/Aegon Targaryen (we're still getting used to calling him that), won't protect you from white walkers or the rains of Castamere. But it might come in handy if any winter snow showers are coming or you just really want to carry around a pretend sword without looking like a total fool. Buy It: $27 on HBO Shop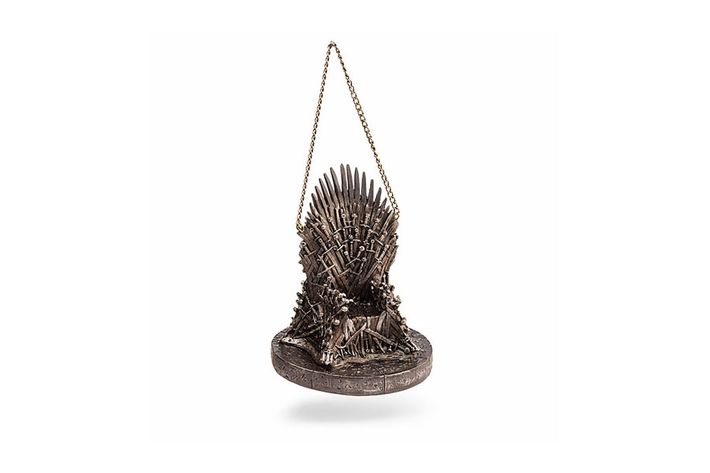 Iron Throne Ornament
When religiously applicable, we can all agree that no Christmas tree is complete without a 4.25-inch replica of a fictional chair that indirectly caused the deaths of millions of people, right? Buy It: $13 on Amazon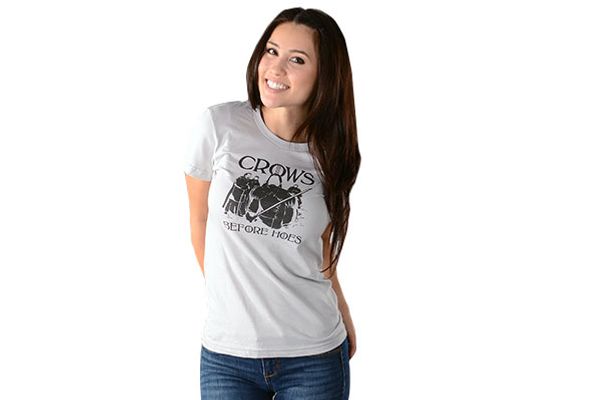 "Crows Before Hoes" T-shirt
You won't even have to swear to "take no wife, father no children" if you wear this in public. Buy It: $20 on Snorg Tees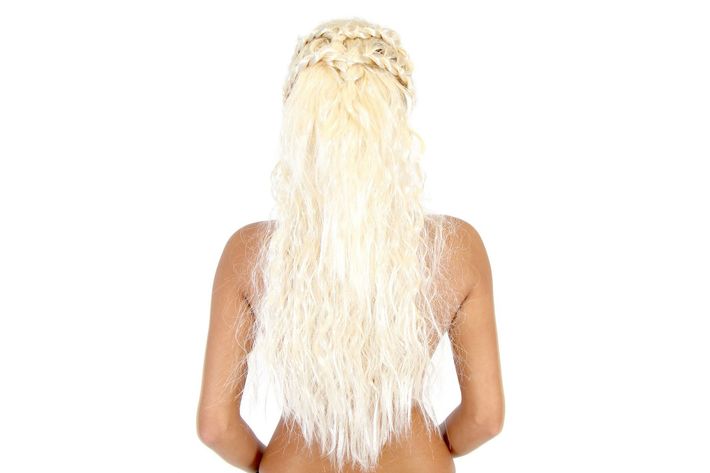 Khaleesi Wig
If you want to get technical about it, this hair is really a Daenerys wig, since the title of "Khaleesi" refers in general to the wife of a Khal, who would typically have the darker complexion and hair of the Dothraki. Anyway, here's some fake blonde hair that looks like our favorite mother of dragons. Buy It: $24 on eBay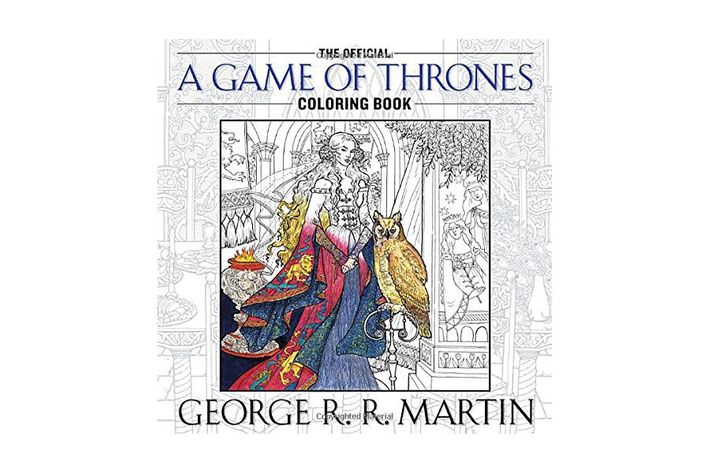 The Official a Game of Thrones Coloring Book (for Adults)
Feeling anxious about the horrors of the latest episode, or on the edge of your throne waiting for the next one? Grab some crayons or colored pencils and this GOT coloring book, because this is a good way for adults to relieve stress. Buy It: $14.50 on Amazon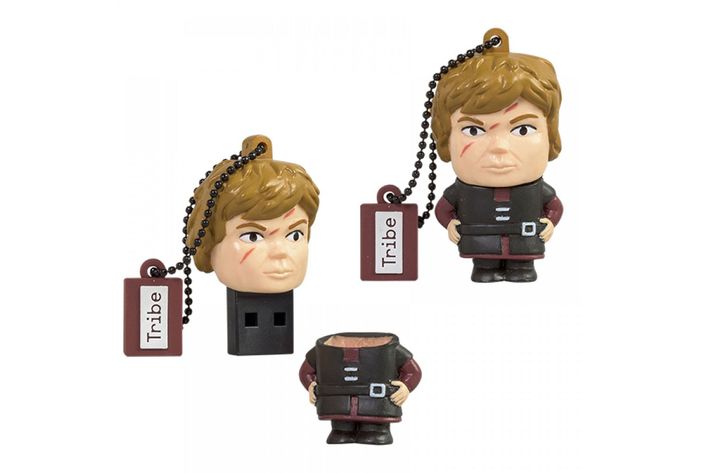 Tyrion 16GB USB Drive
Whether you're typing up some extended Arya/Gendry erotic fanfic or keeping a detailed spreadsheet of the Game of Thrones time line, it's always a good idea to back up your documents. Given his cunning nature, we suggest the Tyrion Lannister USB drive, though you can also go with versions modeled after Daenerys, Jon Snow, his direwolf Ghost, or the Night King. Buy It: $17 on Amazon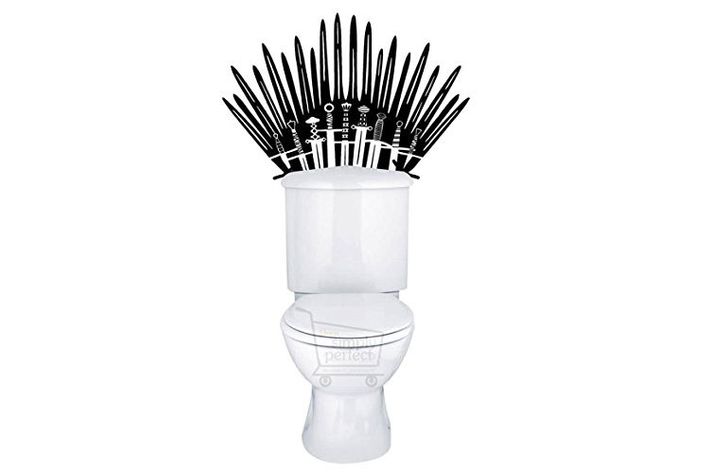 Iron Throne Toilet Decal Sticker
The Iron Throne gives its sitter a sense of singular, immense power, and an air of vulnerability. A toilet is where Tywin Lannister was killed. Which is to say: Do not take the application of this sticker lightly. Buy It: $20 on Amazon
Whiskey, Wine, and Beer
The preferred choice of alcohol in Game of Thrones seems to be "lots of it," but if you're more discerning, HBO has a variety of modern booze options. Ommegang currently has five beers in circulation, with the most recent being the For the Throne golden ale blended with Pinot Grigio and Viognier grapes. The official Game of Thrones Wines line offers a Pinot Noir and a Chardonnay, both tasty for all times of day, if you drink like Cersei. For the harder, prebattle stuff, Diageo has a line of single malt whiskeys from the likes of Lagavulin and Cardhu that are distilled for each of the major houses, while Johnnie Walker White Walker celebrates the undead with a berry and vanilla-accented Scotch that comes in a bottle that reads "Winter Is Here" when it's frozen. Enjoy it responsibly (as in, not like Tyrion). Buy It: $20 on Amazon
A Feast of Ice and Fire: The Official Game of Thrones Companion Cookbook
Nothing revs up the appetite like binge-watching hours of flayings and dismemberment, but if you're at a loss for what to make for dinner or dessert, open up this George R.R. Martin–approved, medieval-style cookbook. You'll find recipes representing the dishes of Westeros and Essos, like lemon cakes and pork pies, and helpful kitchen suggestions like substituting lamb for goat meat. Buy It: $24 on Amazon
Hodor Door Stop
Have a laugh at one of the saddest deaths in the series with this engraved oak door stopper. As the description says, it's a "Guaranteed Conversation Piece," especially if you feel like discussing Kristian Nairn's DJ career or something. Buy It: $20 on Amazon
I Drink and I Know Things Beer and Wine Glass Set
There are plenty of glasses, mugs, and stemware emblazoned with one of Tyrion's best lines, but why make yourself choose between beer and wine when you can have cups for both? It's marketed as a "his and hers" set, but, really, they're for everyone, solo or otherwise. Buy It: $25 on Amazon
A Game of Thrones Catan
In this edition of the popular board game, you play as a member of the Night's Watch, battling the Wildlings as you try to survive on meager rations near the Wall and rise to the rank of Lord Commander. We're not sure what happens after that but we can guarantee the game won't be burned down by an undead dragon at the end. (RIP, the Wall.) Buy It: $64 at Target
Game of Thrones Music Box
Did you ever notice that in movies, music boxes are almost always found in the bedrooms of a dead child, sister, or someone else really innocent? If that's the vibe you're after, why not grab one of these hand-cranked boxes that plays the show's theme song and get it engraved for your favorite family member. It's the gift that truly says, "You're next." Buy It: $13 on Amazon
Oreo Limited Edition Game of Thrones Themed Classic Chocolate Sandwich Cookies
They're Oreos but for Game of Thrones, with house sigils baked into the cookie part. The cream, as far as we can tell, is standard fare. Buy It: $3 on Target
My Journey North: The Autobiography of Hodor
A heartfelt look into the life of the beloved stable boy/bodyguard that's prime for dramatic readings, this 110-page book gives you such insights as, "Hodor hodor hodor?" and "HODOR!" If you can't get enough, pick up the 346-page sequel, North From Winterfell: Vol II. Buy It: $8 on Amazon
Adidas X Game of Thrones Night's Watch Ultraboost Shoes
You'd actually be hard-pressed to recognize these as a Thrones tie-in, but once you're in the know, you'll recognize the knit pattern as the Night's Watch's armor. It's not just any old show-related tchotchke: The performance sneakers feature Adidas's "most responsive cushioning ever" and a heel molded for "optimal movement of the Achilles," which all sounds pretty handy if you need an extra bit of bounce while sprinting away from wildling hordes and dodging flaming arrows. Buy It: $180 on Adidas
Fender Sigil Collection Guitars
Be a true Game of Thrones axman with one of these $25,000-and-up custom-made Fender guitars that are just as opulent as you'd expect from one of the great houses. The Stark Telecaster has silver direwolf pickguard, the Lannister Jaguar is appropriately adorned in 24k gold leaf, and the Targaryen Stratocaster has a wood body cut to emulate dragon scales with a "vintage-style six-screw tremolo to achieve dragon-like dive bombs." If you're reticent about parting ways with that much coin, know that they're endorsed by not only the showrunners but Rage Against the Machine's Tom Morello and Anthrax's Scott Ian. Buy It: $25,000 to $35,000 on Fender.com
Tarot Cards
If you're a Vulture reader who ignores all of the spoiler warnings we put in our articles about the show because you just can't wait to know what happens, what better piece of Thrones merch than something that can spoil your entire life? An accompany guidebook will translate what the cards mean for the rest of you and your friends' mortal days, so feel free to play Melisandre and make some bold, probably incorrect predictions. Just don't burn any children at the stake because the cards told you to. Buy It: $25 on Urban Outfitters
Direwolf Dog Bandana
Thankfully, this adorable accessory for your pooch won't disappear for seasons at a time because the CGI costs were just too high for your budget. Buy It: $10 on Amazon
4D Cityscape King's Landing Puzzle
Re-create the show's opening credits by constructing your own version of King's Landing with this 260-piece set. Underground cache of wildfire not included, in the event that you get so frustrated you want to burn the whole thing down. Buy It: $28 on Amazon
Hand of the King Gold Pin
Accessorize your outfit with this three-inch zinc-alloy pin that says, "I offer great advice, but I'm well aware you can have me killed at any time." Buy It: $15 on HBO
Stark Handbag
Whether you're packing for a day at the office or a years-long trip home after your family was torn apart by a war between kingdoms, carry your stuff in style with this direwolf-emblazoned padded bag. Buy It: $60 on HBO Shop
Gendry Hammer & Arya Needle Foam Sword
Perfect for some gentle cosplay, this foam version of Arya's sword is built to use more than "once or twice," as she told Jon Snow in the season-eight premiere. If you're looking for a couple's costume this Halloween, HBO also makes a foam Gendry hammer. Buy It: $35 at HBO Shop
The Hound Helmet
Remember how terrifying Sandor Clegane was before he got his ass kicked by Brienne? Emulate that old version of the Hound with this latex helmet that, much like the character, is very averse to fire. Trick or treat carefully. Buy It: $54 on Walmart
The Crown of Cersei Lannister Prop Replica
Who can forget when Cersei finally became queen and, never one for subtlety, donned this crown with its customized Lannister lion and Iron Throne design at the center? This metal replica is in limited supply and comes with a numbered plaque on the base of its four-sword display stand. Buy It: $250 on HBO Shop
Ned Stark Funko Pop! Figure
For added authenticity, behead this adorable little vinyl friend. If that's too grim, pick up a Jorah Mormont version and banish him to the friend zone of your home. Buy It: $11 on Walmart
Ghost Plush
The most loyal living direwolf comes as a cute, cuddly nine-inch plush doll, perfect for comfort and soaking up all your series-finale tears. Buy It: $20 on HBO Shop
For the Throne Jon Snow Heat Transforming Mug
Any time you put your hot coffee, cocoa, or tea in this mug, Jon Snow comes back to life, like a GIF you can drink out of. Buy It: $25 on HBO Shop
Valar Morghulis Journal
There's no need to memorize your kill list when you can just jot it down in this hardcover journal. With 192 lined pages, it also comes with a ribbon placeholder in case you forgot where you left off in your quest for vengeance. Buy It: $19 on HBO Shop
"Dinner Is Coming" Grill Gloves
Never again worry about being kissed by fire while manning your meats or wielding a flaming sword with these heat resistant mitts. Buy It: $27 on Amazon
Three Headed Gold Dragon Engagement Ring
If you're thinking about getting married in the sight of the seven — Father. Smith. Warrior. Mother. Maiden. Crone. Stranger — you can always pop the question with this 1.3-karat diamond white gold ring. Just make sure to ask before your beau sours on House Targaryen, considering their tendency to go all mad and fire-happy. Buy It: $11,000 on Etsy
Not Today Catspaw Blade Unisex T-shirt
Finally, the perfect shirt for when you need everyone to know you're feeling a bit stabby. It's also great for when your boss asks you questions like "Can you stay late?" Add in that steely Arya look for good measure. Buy It: $30 on HBO Shop
A Lannister's Wallet
Yes, it says "A Lannister always pays his debts" on it and you can always pretend you nicked it off one of their many, many corpses in King's Landing. Buy It: $40 on ThinkGeek
If you buy something through our links, Vulture may earn an affiliate commission.