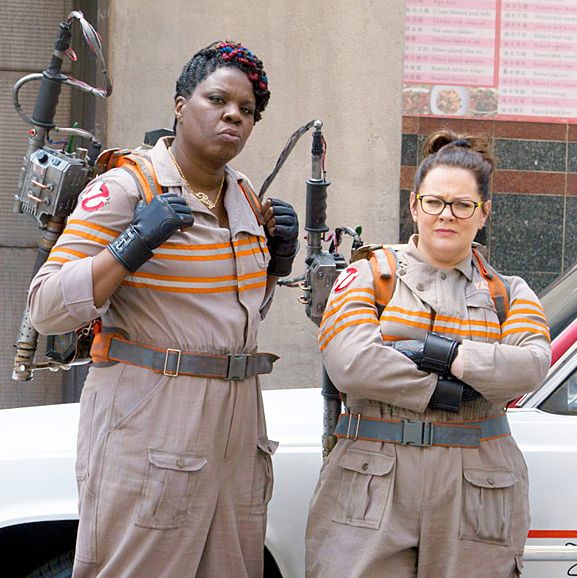 Photo: Hopper Stone/Sony Pictures
Before Paul Feig's rebooted Ghostbusters squad can save New York City from a spectral threat this summer, they'll be forced to battle a shadowy cabal that's even more terrifying: straight men on the internet.
That's my main takeaway from Mike Sampson's ScreenCrush report noting that the trailer for Feig's female-led Ghostbusters movie is the most disliked movie trailer ever to appear on YouTube. Though the official teaser only debuted last month, it has already received over 500,000 thumbs-down votes — so many down-votes that it has now entered the unfortunate pantheon of YouTube's 100 most-disliked videos ever. Comments underneath the trailer include swipes like "This movie is pure feminazi propaganda," and "When are people going to learn that women aren't funny?" while a YouTube search for the trailer is more likely to produce angry reaction videos like "5 Reasons the Ghostbusters Trailer SUCKS," each one advertised with a very chill thumbnail image, like a guy flipping the bird or a guy cocking a finger to his head like he's about to blow his brains out.
A vocal contingent of the internet has been up in arms ever since Feig and Sony announced that the remake would star women like Kristen Wiig and Melissa McCarthy instead of four men as in the original 1984 film, but the scope of the online vitriol — and the company the movie now finds itself in — is instructive. Sampson notes that the most disliked video on all of YouTube is Justin Bieber's "Baby," and female singers dominate the 100 most down-voted clips, including Taylor Swift, Madonna, Adele, Katy Perry, and Nicki Minaj. What do all these videos and the Ghostbusters trailer they now abut have in common? They star women or count women as a primary audience.

I've noticed that sort of phenomenon plenty of times before: Whenever we would tabulate the likability scores for Vulture's Most Valuable Stars list (furnished by market research group E-Poll), it was striking how poorly the surveyed men would rate any actor whose fanbase was primarily female. Stars like Zac Efron and Robert Pattinson received rock-bottom scores from men because of their pinup looks and female-targeted franchises, though women felt no need to react in kind to actors like Jason Statham and Vin Diesel, whose movies are marketed more to men. Maybe women are just more used to a dominant swath of pop culture that takes them for granted, gives them fewer onscreen avatars, and continually marginalizes female directors. They've been taught to make do with what they get and see themselves in stories that don't actually include them.

Ask straight men to do that, though — to concede even a sliver of their utterly dominant Hollywood representation, and to sympathize and relate to an entire other half of the population — and you'll get yourself one of the most down-voted trailers of all time. Good luck, Ghostbusters. You're gonna need it.