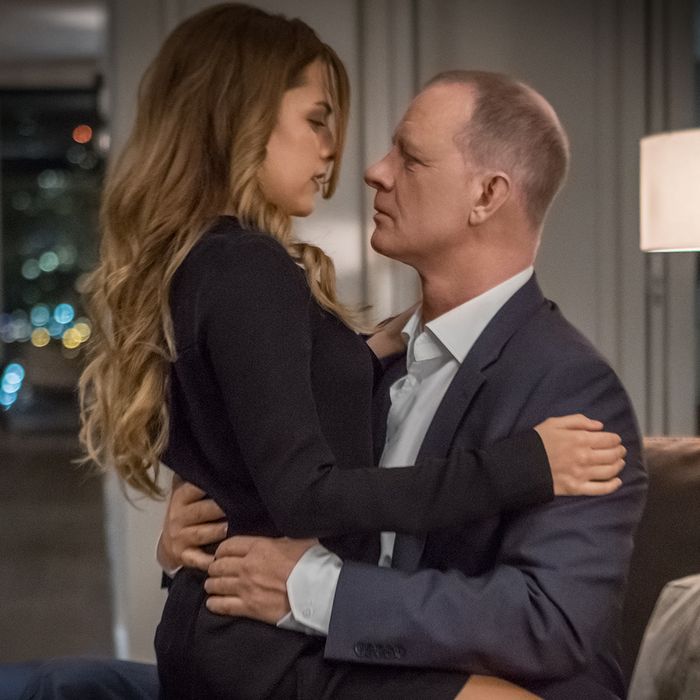 When Steven Soderbergh directed Riley Keough in Magic Mike, he had a feeling he hadn't tapped into her full potential as an actress. In that film, Keough, a model who hails from a royal show-business family and whose acting career was beginning to burgeon, had a small role as a mysterious party girl with a pet pig.
Years later, when Soderbergh was casting for the TV adaptation of his 2009 film, The Girlfriend Experience, he thought of Keough — the 26-year-old granddaughter of Elvis Presley and daughter of Lisa Marie Presley — for the role Christine Reade, a law-school student and legal intern who is introduced to the world of high-end escorting by a friend.
"The thing that defines watchability is this sense that there's another story going on behind the eyes separate from the story that's being told," Soderbergh told Vulture. "That's what you have with Riley; there's this real sense that there's something else going on behind what she's presenting and what the story is presenting. And that's really a quality that is impossible to fake. What it allows for when you have it — and you see it in the show and increasingly as it goes on — is these moments where she's doing nothing, where she's very still, and yet you can feel underneath it that there's an inner life that's very active."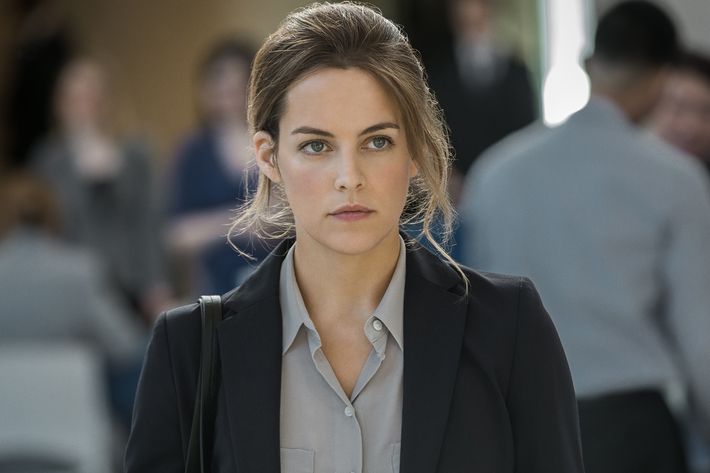 The film starred adult-film actress Sasha Grey and was set in New York City in October 2008, in the days between the financial collapse and the presidential election. The TV series takes place in Chicago and begins just before Christine starts moonlighting as an escort. "In the movie, you parachuted into this woman's life [as a sex worker]," Soderbergh said. "[For the TV show], we felt like this allowed for us to see the development of this character before she enters into sex work. But also I think you can make an argument that all stories ultimately are about control, and this seemed to be a really interesting way to explore a young person trying to determine for herself how much control she wants to exert over her life. Because when she's at work, she has no control at all."
Soderbergh thought re-making the story was worthwhile because the episodic nature of Christine's client relationships lends itself well to television, but the Oscar winner had no desire to re-invent it himself.  This time, he preferred to act as "facilitator." He separately called Lodge Kerrigan, with whom he had worked on the indie film Keane, and Amy Semeitz, an actress in Upstream Color who had directed Sun Don't Shine, a movie he admired. When they both expressed interest in the collaboration, Soderbergh set up a meeting. (Kerrigan and Semeitz had worked together before as well — Kerrigan directed Seimetz in an episode of The Killing.)
"Because of the subject matter, I knew we absolutely needed to have a female perspective at the core of the show," Soderbergh said. "The three of us shared a sensibility that allowed for something that would feel unified. Even though I wanted there to be a lot of cross talk between Lodge and Amy, I didn't want the show to feel like you could tell that he did this episode and she did that one. So there's the kind of specificity they shared in terms of imagery, in terms of the way they laid narratives out, in terms of how they deal with actors, that I felt was in sync enough with each other and with [me] that we would have a show that felt like one vision."
Kerrigan and Seimetz had written drafts of all the episodes when they met with Keough for two hours and agreed she was ideal for the role. Seimetz even took a part in So Yong Kim's film Lovesong, which starred Keough, so she could work with her before production began on The Girlfriend Experience (Seimetz also plays Christine's sister on the show.)
Soderbergh asked the writer-directors to craft 30-minute episodes, an unusual construct for a TV drama but one he'd used before on his 2003 HBO series, K Street.  The shorter time frame allows viewers to focus in on Christine's actions, plus it's more appealing for those who may want to binge the series. "It's the right size," Soderbergh said, adding that it perfectly suits the "just one more" binge-watcher mentality. (Starz premiered the first episode on Sunday night, but the entire series is also available on demand.)
Semeitz and Kerrigan co-wrote all of the scripts in less than a year. Their goal was to have Christine own her sexuality and stand out from most young people portrayed on TV. As a "girlfriend experience" provider, Christine goes on dates and spends time with her clients outside of having sex with them. She's vocal about her sexual preferences, but much of her character remains an enigma, at least in the beginning of the series. In one scene, a man asks her what she likes to do and she replies: "To be alone."
"I liked the idea of playing a lead female character on a TV show that's not super-likable and sweet and brave and courageous," Keough told Vulture. "She's a control freak and she's selfish and she does things you think about doing but don't actually do. She is unapologetic and very strong in her beliefs and her morals and doesn't really care to talk about her emotional state. [She] is very bizarre for a woman.  I'm super-emotional and in tears about things all the time, and, you know, she's very calculated."
"There's a point where you question if she's a sociopath," Keough added. "We'd do scenes and Amy and would just start laughing because it's ridiculous. But Christine's funny and smart and cynical, [and] as the show progresses you get a more clear idea of her personality."
Although sociopaths aren't self-aware enough to wonder if they are sociopaths, Soderbergh pointed out, there is a part of Christine that is remote and has always been that way. "It was crucial to us that she not be broken and there not be anything wrong with her because that's the typical cliché that happens when people try to portray anybody in the sex-work industry. She's a 22- or 23-year-old woman whose ideas of relationships are formed by different forms of interaction, largely because of technology."
Kerrigan directed seven episodes and Seimetz directed six, all on location, using as much natural lighting as possible. "We constructed it so that we would both have equal say in the creation of this world," Kerrigan said. "If someone would have directed the first six episodes, then they would have had too dominant of a voice, so we split it up and we flipped a coin after we'd written everything to decide who would direct which. For me, all drama is human psychology, so I go to the very basic blocks of action and reaction. I find the important psychological moments that need to be conveyed and articulated."
Sometimes scenes were switched from one episode to another.  "One of us would have already done an edit but it would end up in the other's episode," Seimetz said. "The meaning is still there, but the way it was presented is different. I've always been drawn to independent film, and I've never really been interested in collaboration, but it was really fun to play around with the format and treat each episode like a short film."
For Keough, it was like working on a feature film with two directors. "Amy's a lot more open and free," she said. "She'll come to set and not be sure of her shot list and will try things out and figure it out. Lodge knows exactly what he wants, and it's very rare that you'll ask him a question and he'll have to think about it. He knows exactly what he wants. Amy might move a whole scene into a different room. That would blow Lodge's mind."
Keough said she was "terrified" when filming began because she did not feel comfortable not having a complete grasp on her character. One of the things that helped was Skyping with a retired escort the directors had found and discussing how she compartmentalized her work from the rest of her life.
"One of the most interesting things I learned was there were clients she had been in love with. They couldn't be together because she was an escort and the people were sometimes in the public eye or had powerful positions," Keough said. "It was a heartbreaking thing for her."