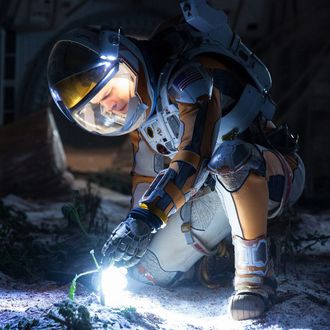 Take that retroactive burn, Matt Damon!
Photo: Twentieth Century Fox
One swallow does not a summer make, nor one laugh at a movie star telling science jokes, a comedy. The Hollywood Foreign Press Association, the mysterious governing body behind the Golden Globes, has adopted new standards for differentiating between drama and comedy. "Motion pictures shall be entered in the category that best matches the overall tone and content of the motion picture," the HFPA wrote, among other changes. "Thus, for example, dramas with comedic overtones should be entered as dramas." (Musicals are defined as "a comedy or a drama in which songs are used in addition to spoken dialogue to further the plot.")  Basically, this is one big dig at The Martian, a drama about Matt Damon being stuck in space, which snuck into the Globes' comedy/musical category in a Trojan Horse made of potatoes, poop jokes, and science puns — and then it won! The ceremony will air on Sunday, January 8; by decree, everyone in a comedy will make a face like that one Greek mask on the red carpet, everyone in a drama will look like the other, and all will be right with the world.