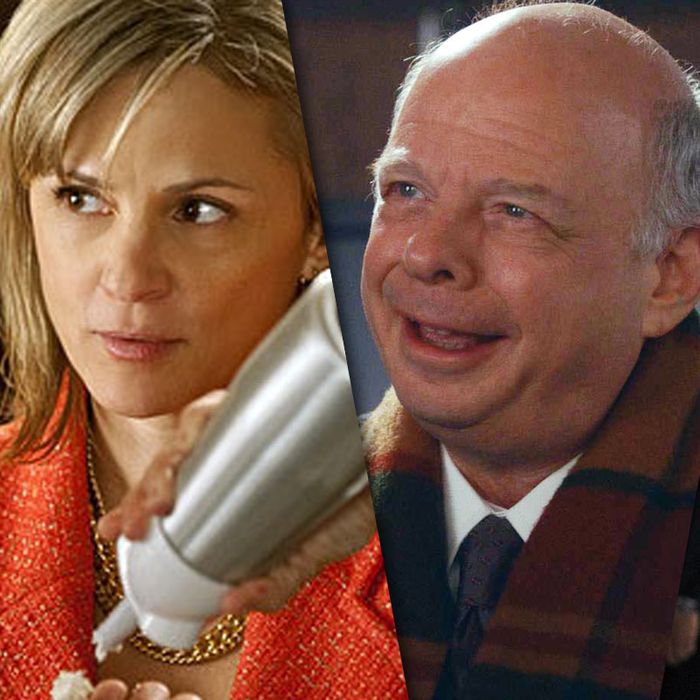 L-R: Amy Sedaris, Wallace Shawn, Anna Camp
Photo: CBS
In its seven seasons, The Good Wife has had gloriously awkward appearances from real-life figures playing themselves: Gloria Steinem, Donna Brazile, Valerie Jarrett, Michael Bloomberg, and Bill de Blasio, who shouted at Eli from a cab TV that just wouldn't turn off. But over the course of its run, the show really perfected the art of the revered-actor guest spot: Mike Colter, Matthew Perry, America Ferrera, Jeffrey Tambor, Blair Underwood, Matthew Morrison, Amanda Peet, Zach Woods, Matthew Goode, Jill Hennessy, Mo Rocca, Lily Rabe, Margo Martindale, Connie Nielsen, David Hyde Pierce, and Maura Tierney are just some of the other folks who stopped by. There was a single episode in season three with guest spots from Rita Wilson, Parker Posey, Amy Sedaris, and Jonathan Groff. Oh, and don't forget T.R. Knight!
Every week, when a new case rolled through the doors of Florrick/Agos, or Lockhart, Agos & Lee, or Lockhart Gardner, or whatever the hell attorney combo had formed a firm that week (remember when all the first-year associates tried to break off and start their own firm? Ha!), there was a chance some series favorite (Patti Effing Nyholm!) would show up as opposing counsel and we'd have a real rodeo on our hands.
Behold, we've culled the 15 most epic recurring guest stars ever to grace The Good Wife, ranked.
15. Grace Rex as Martha Reed
I just love that Martha never, ever, ever gets over the fact that Alicia doesn't hire her as an associate. Ever. Girlfriend holds onto that bitterness like a dog with a bone.
14. Rita Wilson as Viola Walsh
Damn, who knew Rita Wilson could play a coldhearted bitch so well? Viola Walsh is every Hollywood attorney stereotype rolled into one: vain, malicious, obsessed with money, and manipulative. Okay, she's every attorney stereotype from any state rolled into one.
13. Denis O'Hare as Judge Charles Abernathy
It's a testament to Denis O'Hare's range that he's not only beguiled as bartender Liz Taylor on American Horror Story: Hotel, ripped throats out as a 3,000-year-old vampire on True Blood, and popped up occasionally as the bleeding-heart-liberal Judge Abernathy, who "makes Michael Moore look like Rush Limbaugh." Let us now bow our heads in a moment of silence for Darfur …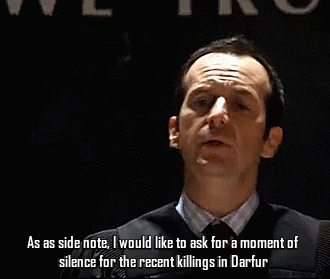 12. Anna Camp as Caitlin D'Arcy
After winning the associate's job over vengeful Martha (because she's Davis Lee's niece), we all wanted Caitlin to royally screw up a case and get fired, or at least trip, in court. But Anna Camp played her So. Damn. Capably. And when she quit because she wanted to get married and have a baby, she actually provided a coherent defense of why that's a feminist choice.
11. Ana Gasteyer as Judge Patrice Lessner
In my opinion, Ana Gasteyer is one of the most underused female comedians of our time. In my opinion, her imperious peering from the bench made the counsel squirm deliciously in their seats. In my opinion, her requirement that attorney's couch their statements as "in my opinion" was one of the best running gags on the show.
10. Will Patton as Mike Tascioni
Tom the "service" Chihuahua deserves an Emmy of his own, but the brilliant late season-seven introduction of Mike Tascioni, ex to Elsbeth and attorney to Peter Florrick, filled in some of her backstory and let us revel in the sheer pleasure of a man who wears a bowler hat everywhere he goes.
9. Amy Sedaris as Stacie Hall
If all you remember of Amy Sedaris's effervescently malicious role as Eli Gold's nemesis is her blurting out "I desire you" in a hot-toddy bar and then forcing him to jam his whipped-cream-covered fingers into her mouth then you are blessed and need remember no more. It was a pairing made by the heavens and only fleetingly bestowed upon us mere mortals.
8. Jerry Adler as Howard Lyman
Howard's "lazy old partner drawing a paycheck while he sleeps in his boxers" schtick was genius. Every week the partners had a new reason to use Howard in their intra-office wars, and every week he had a new reason for sexually harassing a young female associate. But he really came into his own when he started a war with Cary over "ageism" in the office.
7. Wallace Shawn as Charles Lester
Wallace Shawn standing next to anyone is immediately funny — it's a gag directors have been running since his Andre-the-Giant-Princess-Bride days, at least. But as the in-the-know lawyer for drug kingpin Lemond Bishop (who, thank the gods, eventually disappeared), Shawn gets laughs because of the implication that he's actually the heavy. Nobody can ever confirm it's him committing the bad deeds, but Charles Lester leaves behind a slew of intimidated witnesses in his wake. Plus, he forces Alicia to meet him in bowling alleys where he dons Stevie Wonder sunglasses and compares himself to Abraham Lincoln: "a small-town lawyer with a small-town practice."
6. Dylan Baker as Colin Sweeney
Colin Sweeney is a creepy murderer and I might be in love with him. After definitely killing his wife, the rich, S&M-loving, so-obviously-guilty-it-hurts dilettante exclaimed, "Oh no! Now I'll need a fourth for bridge!" A few episodes later Alicia came to his house only to find a dead stalker he'd been sleeping with handcuffed to his ankle, but when his attorneys questioned him from lockup he was more annoyed to learn that she was a suburbanite than that he might go to prison for 45 years. He's the perennial client, always killing somebody and in need of legal help, and his creepy crush on Alicia always perfectly toed the line between sweet and Psycho shower scene.
5. Tim Guinee as Andrew Wiley
With a baby strapped to his chest and two other kiddos trailing Cheerios behind him, the meek, floppy-haired Wiley looks more bedraggled boy-band alum than cunning investigator. Don't forget, Cary brought him out of SAHD retirement to work for the State's Attorney's office way back in season two. And ever since his duality as Super Dad and Super Investigator began, his kids have been causing some of the best conversational interruptions in TV. Remember his toddler tricycling around and around and around the duo as Wiley explained to Will Gardner that he's under investigation? Or his Bingo Was His Name-o ringtone? Come to think of it, all that dad-on-the-go bizness is kinda hot …
4. Martha Plimpton as Patti Nyholm
Ah, Patti Nyholm, the wondrous baby-making machine. Forever suffering from the pangs and pains of pregnancy, breast-feeding, and child care, and manipulating judges and juries through depositions, hearings, and lawsuits, she was the yin to Andrew Wiley's yang. You almost want to hate her for the hapless mama routine and the way she wields those kids (and a breast pump) as a weapon. Feminism be damned, she'll slap a kid to her boob if it'll convince a judge to give her client a few more weeks to gather info. But for the entire season-three finale, as Patti tried to blow up Lockhart & Gardner's business, one of her toddlers rolled around the office in a musical walker, wandering through otherwise fraught or sexually charged scenes with some impeccable timing. A+, Baby Nyholm.
3. Michael J. Fox as Louis Canning
"Your Honor, I suffer from a condition called Tardive Dyskinesia …" Never in television history has an actor brought his own physical handicap so hilariously to a character. With stumbles, trips, and baaaarely out of reach crutches, Louis Canning makes it completely okay to laugh at — and kinda hate — a physically disabled person. What a damn feat.
2. Mamie Gummer as Nancy Crozier
Nancy Crozier is that sorority-letter-wearing bitch who showed up to Comp Lit without any of the Borges reading done and sucked up to the prof so sweetly that he gave her a pass. She's the awful friend who balls up her face and reminds you that you had a third glass of wine, so can you pitch in more for the bill? Nancy Crozier wants to eat your soul and yet everyone else around her thinks she's made of cream pie and unicorn dreams. Nancy Crozier, the faux-naive attorney who tosses her blonde hair and pleads innocence as "just a girl from Michigan" is goddamn hilarious.
1. Carrie Preston as Elsbeth Tascioni
In her first appearance in season one, Elsbeth was a little silly but capable, convincing a sheriff that Peter Florrick's electronic ankle monitor went off through no fault of his own. But with every return (she's appeared 14 times) her wardrobe grew more colorful, her facial tics more drastic, and her lightbulb moments more stunning, until we reached the Platonic ideal of the Quirky Genius. She gets Peter acquitted, helps Alicia ward off the Treasury Department, and keeps Will from going to jail on bribery charges, all while pointing out how lovely Alicia's wardrobe choices are and collecting an impressive array of Vera Bradley bags. Seriously, nothing I say here will do her justice. Elsbeth is my everything.