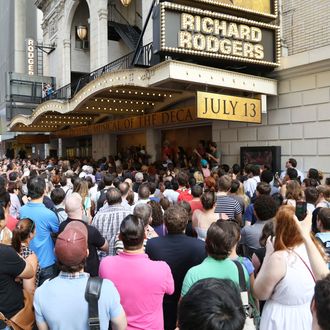 The Richard Rodgers Theater in happier times.
Photo: Walter McBride/Getty Images
Saturday night's Hamilton performance reportedly had to be paused after a driver left his truck idling on 46th Street near the Richard Rodgers Theater. Police feared that the white box truck, which was parked outside the Marriot Marquis hotel with wires and gas canisters suspiciously exposed, was a bomb threat, and shut down Times Square accordingly. (It wasn't, but the driver received ten summonses for various offenses.) In a very Hamilton twist, media reports (including this one) originally said that the audience was evacuated from their seats into the theater's basement, but multiple people say that isn't true. It's hard to say for sure what really happened, unless you were in the room where it happened. Click boom!