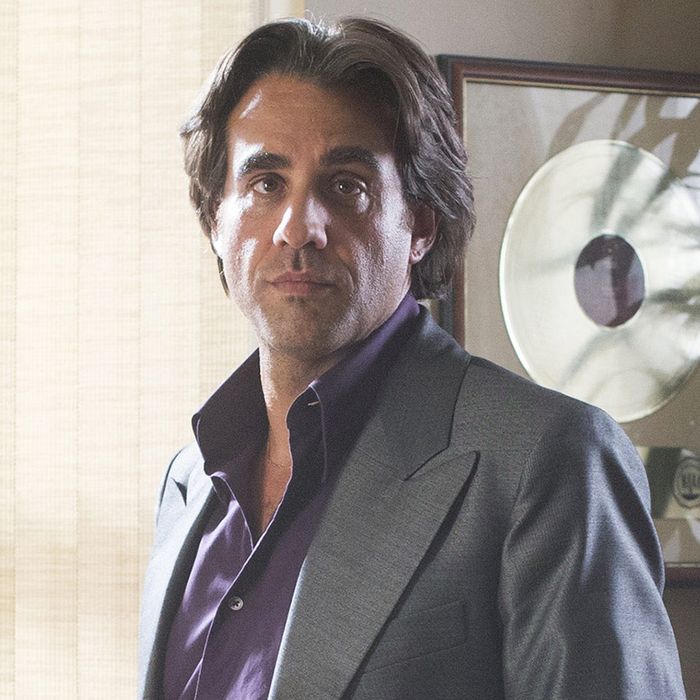 Bobby Cannavale in Vinyl.
Photo: HBO
Since its Valentine's Day premiere, HBO's big-budget, 1970s rock-and-roll drama Vinyl has struggled mightily to capture both viewers and buzz. The series, a collaboration between Boardwalk Empire creator Terence Winter and film icon Martin Scorsese, opened with fewer than 1 million same-day viewers and has since seen its Sunday audience drop by more than 25 percent. More distressingly, while early reviews of the show tipped slightly positive, Vinyl has failed to generate the sort of ecstatic critical praise or watercooler buzz on which HBO relies. These problems won't prevent the show from getting a second season: The network announced a renewal hours after broadcasting the premiere. But late Friday, word got out that Winter — whose association with HBO goes all the way back to The Sopranos — was being replaced as showrunner. Growing pains are hardly unprecedented for HBO dramas, but the decision to sack someone as closely associated with the network as Winter was a shocker — and, perhaps, a sign of just how desperate the network is to ensure Vinyl remains in its rotation for years to come.
It's not that HBO's future is somehow at stake with Vinyl: The only series on HBO which can rightly be called all-important is Game of Thrones, and it's doing just fine. But save for that one very big hit, HBO finds itself in the middle of a years-long creative recession when it comes to dramas. While True Detective was a massive success its first season, it collapsed in its sophomore year, leaving its future in limbo. The Leftovers is a great show, but many critics were slow to warm up to it, and same-day ratings for the show dropped sharply in season two (in part because it lost its freshman year advantage of a True Blood lead-in). HBO has already decided Leftovers will end after its third season, giving it roughly the same lifespan as Aaron Sorkin's The Newsroom (2012–2014). Sorkin's media critique had its defenders, but on balance, it received far more darts than laurels, and is symptomatic of the network's recent drama struggles.
Fact is, HBO hasn't come up with an undeniable drama hit since GoT bowed in 2011. And while the network has faced creative dry spells in the past, it's never done so while operating in a competitive landscape where so many rivals (Netflix, Amazon, AMC, FX, Showtime) were churning out prestige programming on a par with the pay-cable pioneer. This new reality helps explains why HBO made such a major bet on Vinyl: The nearly two-hour pilot, directed by Scorsese, carried a price tag upwards of $30 million, industry sources have told Vulture and other media outlets. No network — not even HBO — spends that sort of sum unless it believes it has a potential signature series on its hands. HBO clearly believed it had a possible game-changer with Winter's show, making it all the more painful when audiences never really showed up, and when even critics who liked the show were relatively restrained in their praise. This disappointment suggests a reason why execs felt it necessary to "make a change in the creative direction of the show," as the network put it in a statement Friday.
Winter is the kind of trusted producer to whom the network historically would've given a wide berth. And on the comedy front, HBO can still afford to be forgiving: It's had better luck generating buzz with half-hours (Girls, Veep, and Silicon Valley have all been zeitgeist shows) and production costs are much smaller. HBO didn't replace the creators of Togetherness, Looking, Doll & Em, or Enlightened in between their respective first and second seasons, even though the viewership for all four series was tiny. But after a string of big-budget drama disappointments, HBO arguably doesn't have the luxury of a laissez-faire series oversight anymore. It needs the second season of Vinyl to be markedly better than season one, and it needs to convince viewers who opted out of the show early on— or those who never bothered to tune in — that there's a reason to watch.
HBO declined to make executives available to comment for this story, and a PR rep for Winter did not respond to an interview request, so it's not yet clear whether the network rejected the writer's plans for season two or if some other conflict led to his departure. It doesn't seem a stretch, however, to assume HBO brass felt the need to protect their investment in Vinyl outweighed whatever bad PR or hurt feelings might result from the change. Replacing Winter doesn't guarantee Vinyl will magically fix itself creatively, or that viewership and buzz will suddenly soar when the show returns. But it does offer HBO the chance to reset the narrative surrounding the series, increasingly the odds Vinyl becomes a fixture on the network instead of ending up the TV equivalent of a one-hit wonder.