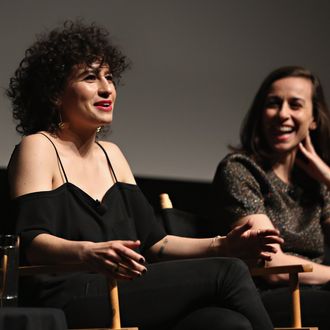 Ilana Glazer.
Photo: Cindy Ord/2016 Getty Images
What if you could kidnap Michael Jackson as a child and raise him away from his family, sparing him a traumatic childhood and changing the entire outcome of his future? Would you do it? In their new miniseries for Comedy Central, Time-Traveling Bong, Ilana Glazer and Paul W. Downs play two "useless stoners" (Glazer's words) who travel back to the 1960s and steal Michael Jackson … just to later abandon him. "Abbi [Jacobsen] actually pitched that a long time ago," said Downs during a panel for the series at the Tribeca Film Festival. "I love that one because I could talk about it for hours," Glazer said. "I still am like, would I do what we did?"
Downs: Raise Michael Jackson as your son?

Glazer: And then abandon him. Which, abandoning him is like, "You pieces of shit."

Downs: I think I would've done the same thing.
Another pitch that didn't make it into the project was about Bill and Hillary Clinton. "It's like Back to the Future — Marty's parents are Bill and Hill," Glazer explained. "We land at Yale in like 1970? 1971?"
"They encounter a young Bill Clinton who's like, 'I smell weed — who's tokin'?'" said writer Lucia Aniello. "So they go back to his dorm room and get him really high, and he accidentally forgets he has his first date with Hillary. She comes by and she's not pissed, she's just like, 'Oh, you're not for me.'" Sadly, the skit didn't make it to the screen. "We did have that in the script for a while," Glazer said. "But Comedy Central was like, 'Enough.'"