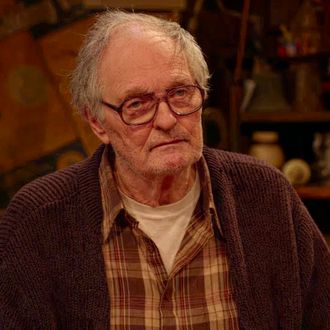 Louis C.K. is ready to talk about Horace and Pete, especially as he's cleared up his finances around it. Today, C.K. made his return to WTF, in the podcast's second part of its 700th episode, to talk almost exclusively about making Horace and Pete, a show he said he worked on harder than anything in his life. The episode is a real must-listen for anyone who watched the series, but maybe the most interesting part is his journey to find Uncle Pete.
C.K. has talked about how the part was originally written for Joe Pesci, but on WTF With Marc Maron he explains how he ended up with Alan Alda. After Pesci passed out of fear that the show would be too popular, C.K. reached out to Jack Nicholson through Lorne Michaels. (Side note: C.K. reveals that Michaels was supportive but begged him to get financing. "No one is going to congratulate you for paying for it," Michaels told him.)  Nicholson called C.K. and said, "I just want you to know the writing is terrific, but I'm not going to do it." C.K. asked if he could be convinced, and Nicholson replied, "You know what I did today? I went out to the tree in my yard and I sat under it and I read a book. And when I was done, I went back inside." That was the end of the conversation.
After Nicholson, C.K. thought of Christopher Walken. Walken said through his agent that he liked it, but it was "too easy for a guy like him," as he's played characters like Uncle Pete before. Walken added, "Tell Louis, 'Why don't you get someone that you'd never expect to do this?'"
That same agent then suggested Alan Alda. C.K. said he loved Alda, but he wasn't right for the part. The agent, however, was able to convince C.K. to meet with Alda, even though C.K. was worried about leading him on. Eventually, Alda ended up at his house, but C.K. still wasn't sure. "But then I'm looking at him like, 'Alan Alda's in my house. I love every single thing he's done. Everything. And he wants this.' So I said, 'Let's just do it.'"
On the podcast, C.K. fawned over Alda's performance. At first, C.K. said he tried to tone it down, removing some curses from Uncle Pete's dialogue in episode one. But by episode two, after he saw how Alda was playing him, the rest of the language was left in. "And he was wearing these big glasses, and I was like, 'God, I hate this guy, so much.'" Eventually, he just let Alda do whatever he wanted. "He fucking invented that character," C.K. told Maron. "It's not what I had in my head. It was a billion times better."
Toward the end of the episode, C.K. calls the show the "most important thing I'll ever do" and reveals he still misses it. He still has the sets and is considering revisiting the show, but with a focus on young Horace. "One thing I know for sure is I'll do something like this again," he said.