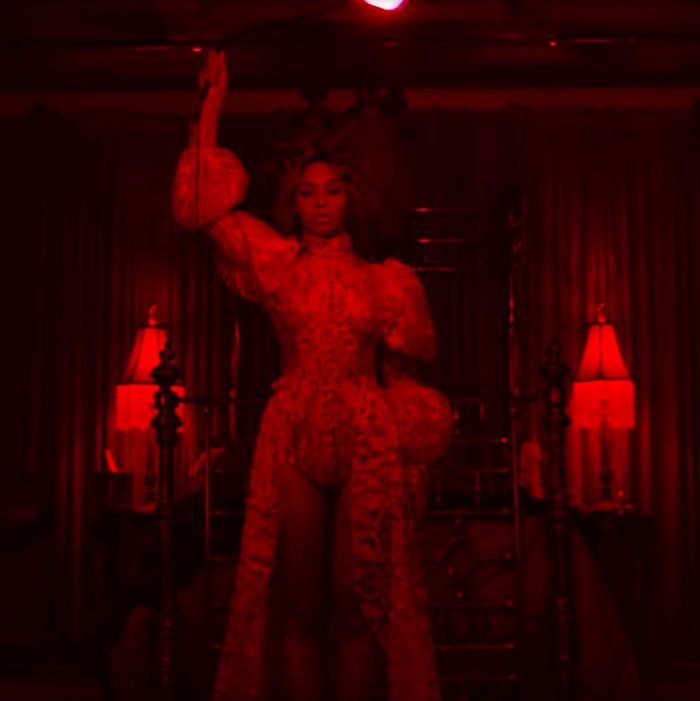 What are you gonna do, love?
This weekend Beyoncé will once again stop the world, with yet another HBO event. But unlike her first two — 2013's Life Is But a Dream documentary and 2014's On the Run tour-concert special with Jay Z — we know next to nothing about Lemonade. Here's all the information we've got so far: Lemonade will air on Saturday, April 23, at 9 p.m. EST, and will run for approximately one hour, according to HBO's schedule. And thanks to the season-six premiere of Game of Thrones and HBO's debut of Jurassic World (which got moved up an hour, to 7 p.m., for Lemonade), HBO has a treat for all you cord-cutters.
They've teamed up with Cinemax for a promotion good for April 22 through April 25 that will allow non-subscribers to watch Lemonade (as well as the GOT, Veep, Silicon Valley premieres, Jurassic World, and a boxing match) on television as part of a free network preview. That promotion, however, reportedly does not apply to streaming services HBO Go or HBO Now. But if you're without cable, HBO is also offering a free 30-day trial to HBO Now (which will cost $15/month once that's up). HBO will also rerun Lemonade on Sunday, April 24, at 8 p.m., just in case you missed it or any of the millions of GIFs and think pieces that will surely follow.
As for what, exactly, Lemonade is, well — there are conflicting reports. An anonymous HBO exec described it to USA Today as a "docu-style specal" similar to Life Is But a Dream; another source tells EW it's a "lengthy concept video." Each of those fits the hour-long timeframe, so, really, it could be both. Hell, it might even be her album — BEYONCÉ's running time was just over an hour. It may also have been directed by Khalil Joseph, if her BeyHive are right, and definitely features the model Winnie Harlow, as seen in the trailer. Whatever Lemonade ends up being, it will unquestionably be cause for conversation, so check back on Vulture for just that.