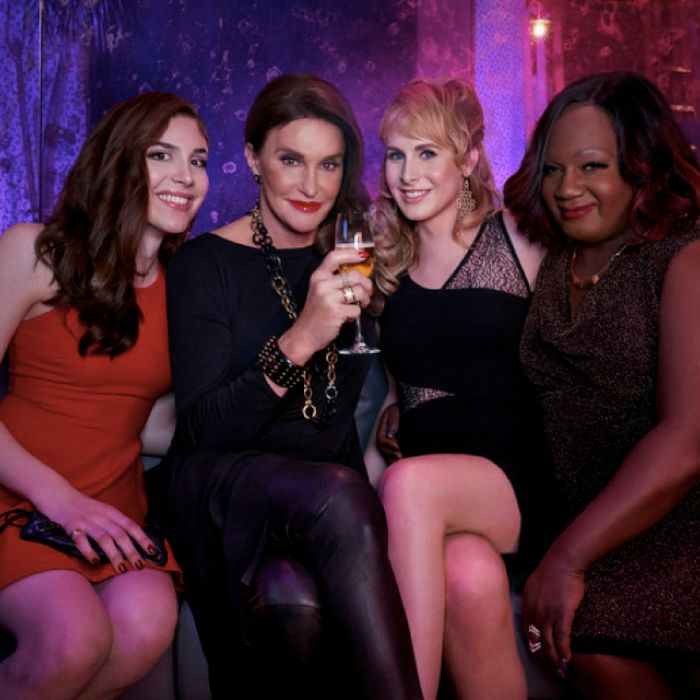 Ella Giselle, Caitlyn Jenner, Zackary Drucker, Chandi Moore.
Photo: Jeff Lipsky/E!
Winter Laike is a trans musician, storyteller, son, brother, and, less notably, Original Plumbing magazine's Mr. Transman NYC 2013. Nicole Pasulka is a non-trans journalist who writes about sexuality and gender. Ahead, we discuss Sunday night's episode of I Am Cait, "Guess Who's Coming to Dinner?"
Nicole Pasulka: Jenny Boylan's train whistle has fallen into Ella Giselle's hands and the crew are off to New Orleans. This will be the final leg of their bus trip across the country.
Winter Laike: Caitlyn Jenner is excited that her sister Pam is going to meet them in New Orleans. We haven't seen Pam since last season, but Cait says she's been very supportive.
N.P.: On the bus, Kate Bornstein says she loves trans men. "They're so handsome." "Most people think it's genitals that make you a man or a woman," she continues, but of course gender goes way beyond what someone has "down there."
W.L.: Uh-oh. Is this episode going to be a game of What's in Your Pants? Asking a trans person — or any person — about their genitals is high up on the list of things not to do. They're called "private parts" for a reason. That's the position Candis Cayne takes, anyway. There's a time and place for talking about genitals, and that's probably only if people plan on getting busy.
N.P.: Kate says that when she transitioned in the '80s, it was "just assumed" that you would have surgery. It's cool that this conversation is happening on TV, with no implied right or wrong answer. Unlike Katie Couric prying about Laverne Cox's and Carmen Carrera's bodies, it's a group of women sharing their very individual perspectives.
W.L.: For Jenny Boylan, surgery was a given. "What I wanted was, in fact, the body," she says. "That was a home that I had never been to, that I was always homesick for." The bottom line is that a person should do what feels right. There is no one way to transition, and surgery does not make a person any more or less transgender.
N.P.: Since we've got to end this season with some drama, Cait's ex-wife Kris Kardashian is coming along for this trip. Kris and Cait have barely been in contact all year, so Chandi Moore is surprised she will be joining them. "She's still learning about you," Chandi tells Cait. How's she going to react when thrown into this group?
W.L.: Kris had asked Cait if she was hooking up with Candis, so Cait jokes with Candis about making sure that they're seen going back to a hotel room together. Chandi tells Cait she has been "picking up shade so well." She's certainly been around these women long enough to learn a thing or two about shade.
N.P.: At Ella's urging, the ladies stop into a bridal shop. Kate pronounces Candis and Cait as "trans bride" and "trans bride."
W.L.: Everyone looks great in their dresses, but this is so awkward. Each episode features some sort of weird flirty thing between Cait and Candis. Just go out already!
After playing dress-up in wedding gowns, the group goes shopping in the French Quarter. A crowd gathers around Caitlyn; they've been cooped up on the bus so long they've forgotten Caitlyn is a celebrity. After they make it through the mass of people, Cait spots "Sister Pam."  Caitlyn always says "Sister Pam" instead of just "Pam." I imagine her walking in wearing a nun's habit. Sister Pam: Back in the Habit.
N.P.: Candis, Cait, and Sister Pam chat about healthy, long-term relationships over beignets. What's it gonna be like when Kris gets here?
W.L.: In Cait's hotel room Jenny insists on firing up the confessional camera. "How are you feeling about your ex-wife meeting your new lover, Candis Cayne?" she teases Cait. Of course, Cait denies that she and Candis have a thing, insisting that they are just friends. Cait says she's actually looking forward to seeing Kris, and thinks she was very honest with her in the past.
Jenny tries to offer some perspective. "If I was your ex-wife, and I loved you, it would hurt my feelings." Jenny asks Cait what she thinks she needs to do to improve their relationship, but Cait doesn't have an answer. We're basically waiting for mayhem. When Kris arrives, she says she's in New Orleans because "Cait has been a little M.I.A." She's been hearing about all these "shenanigans" and wants to know what's happening.
N.P.: Kris is scary — and personally, I like it. Cait's nervous and she should be. She's been pretending like everything's okay, but clearly it is not. This isn't simply a situation where Cait's family has rejected her. She's been inconsiderate and done hurtful things. It's not about gender, it's about life. Kris teases Cait about her party lifestyle because she used to be in bed by 9 p.m. every night. She's recalling their old life together and it's hard to watch.
W.L.: After Cait and Kris make some jokes about their boobs, they meet the rest of the girls for drinks. Kris gets right to the point, asking, "What is the most annoying thing about Caitlyn?" Cait goes ahead and answers the question for the group: It's her politics. They talk about how awful Caitlyn's "politician" personality is, and everyone is loving it. Well, everyone except Caitlyn.
N.P.: On the ride to the restaurant, Kris keeps misgendering Cait and even makes a joke about killing her after dinner. Uh, what?
W.L.: Oof. Cait's pain is clear on her face. Also, Kris always refers to Caitlyn as "Jenner." Has she ever called Caitlyn by her first name? At dinner, Jenny asks Kris whether she sees Cait as she is now, or if she thinks of her as the person she was. Kris jokingly compliments Cait's eyebrows, then says that she sees Cait as she is now. Kris has a question of her own — and it's the dreaded question about genitals. A lot of eyes roll. Chandi lets Kris know that not all trans people decide to have surgery and that's something she needs to understand in order to be an ally. Kris gets it.
N.P.: Jenny has a question for Kris: After being married to Cait for 23 years, does she now "question [herself] and who you were?" Kris will not admit to that. She and Cait do not agree on whether Cait told Kris that she was trans back in the day. It's likely that Cait wasn't clear and Kris wasn't ready to hear it.
W.L.: After dinner, the group goes out to enjoy some music and dancing. Jenny Boylan is "feeling herself" on the dance floor, according to Chandi. And, oh, is she feeling herself! Academic by day, go-go dancer by night?
N.P.: Kris and Candis share a sweet moment by the bar. "I never would have imagined that she could experience this kind of friendship and happiness," Kris says about Caitlyn's new life.
W.L.: The group hangs out on a balcony and tosses beads to the crowd below. Kris brings up the conversation Cait had with Kim about dating men or women. Cait says that she would date a man, but not before having bottom surgery. This seems silly to Kris, who responds by letting Caitlyn know that she can go on a date with a man without sleeping with him.
It's hard to figure out Kris's intentions, but it does seem like she's encouraging Caitlyn to do whatever feels right. This may be the most supportive thing Kris has said to Cait all evening; Kris tells Cait that "life is very short" and she better figure it out fast. Kris is the anti-Ferris Bueller.
N.P.: Outside, someone is chanting, "Bruce go straight!" but the girls just laugh it off. Too late for that nonsense. In the van on the way back from the bar, the ladies have formed a mutual admiration society. "I can't wait to see you guys again," Kris says. "Not you, Jenner, just your friends." Cait plants a big one on Kris. You can almost see their chemistry.
W.L.: Cait ends the episode reflecting on the "crazy night" and her conversation with Kris. The last thing she needs to do? Have a one-on-one conversation with Kris before she leaves.