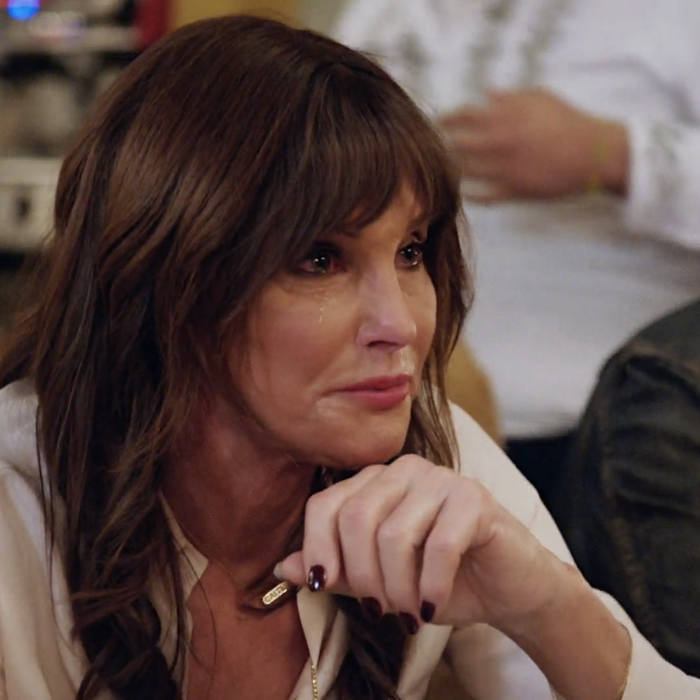 Caitlyn Jenner.
Photo: E!
Winter Laike is a trans musician, storyteller, son, brother, and, less notably, Original Plumbing magazine's Mr. Transman NYC 2013. Nicole Pasulka is a non-trans journalist who writes about sexuality and gender. Ahead, we discuss Sunday night's I Am Cait finale, "Houston, We Have a Problem."
Winter Laike: It's the final episode of the season! It seems like just yesterday we were watching these women first climb aboard the bus. We figured it would only be a matter of time before they were throwing shade and butting heads, but instead of tearing them apart, the trip seems to have helped the women solidify as a group.
Now, we're back in L.A. and it's Christmas. That calls for a yuletide girls' night at Caitlyn's Mailbu abode. Kris Jenner is officially voted into the girl gang and Cait announces that the next big adventure is a ski trip to Mammoth.
Nicole Pasulka: But first, some backstory on 18-year-old Ella Giselle. Apparently her dad was dating Ronda, Cait's best friend/personal assistant! Whoa.
W.L.: Last season, Ronda was Caitlyn's right-hand woman, confidant, and the voice of reason. Why wasn't she around this season?
N.P.: I have wondered the same thing, Winter. It's a Malibu mystery. Candis, Cait, and Ella have lunch with Ella's dad and he talks about how accepting he is of her gender transition, though his inability to say the word "transition" without stuttering suggests otherwise. After lunch, Ella tells Candis and Cait that, real talk, her transition "was a long process" and she closed herself off because her dad wasn't so accepting back when it was going on.
W.L.: A lot of parents who ultimately accept their transgender children aren't 100 percent on board from the beginning. It also isn't uncommon for an "ally" to go on and on about how great of an advocate they are.
N.P.: At Mammoth, Cait says she loves hanging with Candis because she is always game to have some fun. While the other girls have fallen back since the trip, Candis has definitely leaned into her friendship with Cait. After a day on the slopes, the much smaller group urges Ella to sing at dinner. She offers a "barter." She'll sing if Candis and Cait kiss.
W.L.: Cue up the romantic montage! There are plenty of moments from the past two seasons to choose from: Their "date" in season one, the tabloid rumors they were a couple, the dance class where Cait insisted on dancing with Candis rather than a guy, trying on wedding dresses and getting fake married by Kate Bornstein. They have good chemistry. Candis is so incredibly likeable. Cait is Cait. So will Candis and Cait ever be a thing?
N.P.: I don't know, but they kissed with tongue so … maybe! Jenny Boylan and Kate Bornstein arrive and they want to know everything.
W.L.: In season one we largely heard individual stories — Cait's fraught relationship with her children and Kris, how Jenny and her wife managed to stay together through Jenny's transition, Candis's abusive relationship, trans teens getting bullied and harassed at school. Now, with the presidential campaigns underway, the show has turned its focus toward anti-LGBT policies, like Houston's repeal of the HERO Act. The threat to the community in Houston is flagrant, and it was pushed through by conservative Republicans.
N.P.: Jenny wants Cait to go talk to the Republicans, her "people," about this issue. In a very annoying and disingenuous moment, Cait says she's not going to "go out and do political stuff." She is shirking.
W.L.: Cait just spent a month on a bus, learning about issues that affect the trans community. Is she really so attached to her conservative identity that she is willing to ignore the issues that trans people face — disproportionately by trans women — so she won't ruffle the feathers of her Republican peers? Kate gently spells it out: "You're in a position to actually change things. You're in a position to say, 'I am a conservative. I'm a Republican. I believe in small government, and lay off the queers.'"
N.P.: Not only is Cait ignoring the violent right-wing anti-trans rhetoric. In some cases, she's perpetuating it. This episode is being filmed just after Cait told Time magazine, "If you look like a man in a dress, it makes people uncomfortable."
Trans women aren't men in dresses, no matter what they look like. "When you refer to us as men in dresses you're validating all of these pastors and politicians that are using scare tactics against us," Candis chides.
Cait is so sympathetic to the status quo she couldn't see how dangerous that attitude is. Jenny Boylan has said that she joined the trip to help Cait (and the rest of the country) see transgender issues and people in a more nuanced way. The best part of the show has been watching these smart women look over Cait's shoulder, holding her accountable and giving her guidance. This is a big-time version of that.
"People need to know you're fighting for everybody, not just the pretty ones," Jenny tells her. If Cait can't back up her talk about "the issue" with action, she's only trying to make the world a better place for herself.
W.L.: Cait's been in the public eye for a long time. Why she isn't more cautious about what she says publicly? She seems chastened, telling the girls, "You're absolutely right […] How, then, do I word it?" She puts together a trans-affirming statement and everyone cheers.
N.P.: Cait can't accept that conservatives oppose LGBT rights, "but that stops today," says Jenny B. It is not possible to champion trans rights and support candidates like Ted Cruz, because Cruz uses hatred against LGBT people as a rallying cry. This seems to call for a trip to Houston to change some hearts and minds. Kate congratulates everyone for how far they've come from those explosive first days on the bus when Cait yelled at them about Hillary Clinton.
W.L.: Ella doesn't want to jeopardize her "intermediately decent" relationship with her dad, but she needs to clear the air. At lunch, she says that she was on the verge of getting emancipated, and he is shocked. Peter doesn't like to think of the past and how he behaved, but Ella's upset because he never acknowledged the pain. He apologizes and tells her he loves her. He's blossoming as a father just as she is as his daughter. Some of the most beautiful moments happen over brunch.
N.P.: I'm glad this story came out. Acceptance and rejection among family isn't always straightforward or static.
W.L.: Me too. Aside from her crush on Arin Andrews, we haven't learned much about Ella this season. It also shines some light on just what a young person may have to do to get away from an unsupportive family.
In Houston, Mara Keisling, the executive director of the National Center for Transgender Equality, meets the group at the hotel to talk about what's happening in Houston. The HERO Act, which prohibits discrimination in public accommodations like bathrooms, was repealed with the support of five conservative Christian pastors. This means transgender people have to use the bathroom that matches the sex they were assigned at birth, rather than the bathroom appropriate for their gender identity.
Keisling says that, a few years ago, trans women posted signs in bathrooms that said, "There was just a trans woman in this bathroom and nothing bad happened." Cait likes this idea and suggests they go visit some bathrooms. Let the civil disobedience commence!
N.P.: After they use pretty much every bathroom in Houston, the girls learn about a prayer service with one of these anti-trans pastors. Cait admits that she's largely been sheltered from all the hatred out there.
W.L.: The production team isn't allowed to film inside the church, so the group attends services without the camera crew. Despite the church's general view of trans people, many folks in the congregation were excited to see Caitlyn (especially the younger ones). Caitlyn tells off the reverend: "Your comments on that video are highly offensive to me and to all trans people."
N.P.: At the end of season two, it's clear Cait has a much better grasp on the issues that face less-privileged trans people. While she still loves vapid aphorisms about changing the world and bringing people together, she loves her complex and challenging friends even more. She's finally accepting folks she may have looked down on in the past: People living outside the gender binary, people with criminal records, people who've done sex work, and even Democrats. Thank goddess she has Chandi Moore, Candis Cayne, Jenny Boylan, Kate Bornstein, and Zackary Drucker on her team. It has been a joy to watch these women speak their minds and share their knowledge on E!, of all places.
W.L.: Cait really has come a long way, even just the end of the first season. Though the show's first season seemed like a long girls' night of makeovers and gossip, this season was more about education and activism. Cait has learned a lot about the issues that affect the transgender community. Let's hope her learning and understanding does not end after her friends go home.