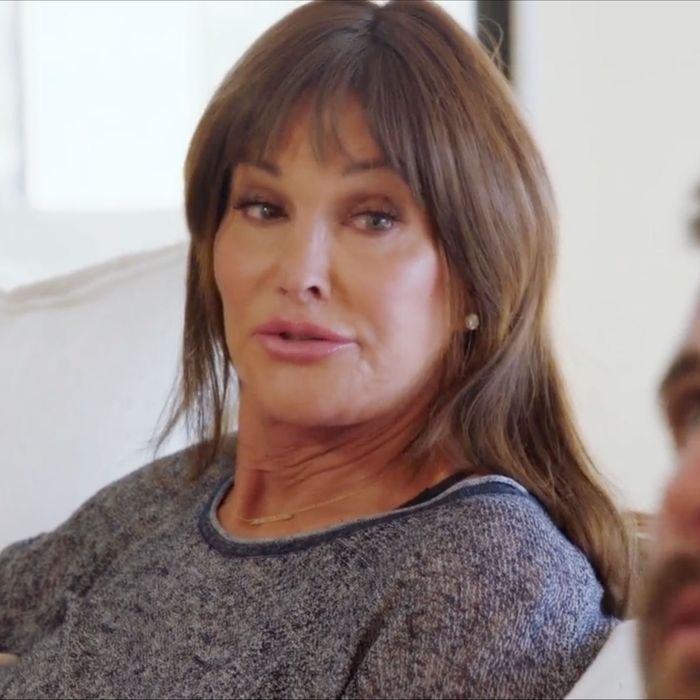 Caitlyn Jenner.
Photo: E!
Winter Laike is a trans musician, storyteller, son, brother, and, less notably, Original Plumbing magazine's Mr. Transman NYC 2013. Nicole Pasulka is a non-trans journalist who writes about sexuality and gender. Ahead, we discuss Sunday night's episode of I Am Cait, "Kiss and Make Up."
Nicole Pasulka: Last week, Kris Jenner came to hang out with Cait and the girls in New Orleans. Now Kris is about to leave, and Cait heads her room to have a serious chat before she goes. Kris says it was "so interesting" to see Cait with her girlfriends, because before Cait transitioned, she never really had friends and didn't interact much with Kris's friends.
Winter Laike: It's nice to see Kris being supportive. She tells Cait, "For you to have girlfriends makes us really happy." Cait can see how much these friendships have changed her and says that she's happier than she's ever been. Wow. It's clearly a relief for Cait to be living as herself and surrounded by a great group of people, but that's a pretty harsh thing to say to your wife of 23 years.
Although Kris is happy for Cait, she lets her know that a lot has been going on at home while she's been on this adventure. Just about everyone is having or has had a health issue, and Kourtney is having a hard time because of Scott Disick's drug and alcohol problems. Has Cait bailed on her family?
N.P.: It bugs me that I can't tell whether this is reality TV manipulation or real life. Kris points out that Cait often checks out, and Cait agrees. For a few minutes, we're getting a glimpse at what's on the other side of the consciousness-raising, motorcycle-riding, road-trip lovefest that is I Am Cait.
W.L.: Kris just wants Cait to be involved in her family; she's sad about losing Bruce. Recently, Kim brought back a bunch of Bruce's old clothes and Kris jokes that she spent 23 years buying the "wrong shit." Cait even has a new driver's license with her name and updated gender marker. Kris says she didn't even know it was possible to change gender on ID and birth certificates.
N.P.: Kris is kind of reeling and Cait tells her, "That person still lives inside me." Cait thinks she's "a better person because of it," but does she mean because of Bruce or because she's transitioned? Either way, if she wants Kris to agree that she's a better person, she'll have to prove it by showing up for the family.
W.L.: Kris mentions how angry Cait had been before. This was likely because she couldn't be herself. "Life is starting to be what I feel like she's always wanted it to be," Kris says. She's happy to know that Cait is in a good place.
N.P.: Meanwhile, Candis Cayne and Kate Bornstein have breakfast — just the two of them. Candis tells Kate that she's always wanted to have a family. Kate thinks that if children are important, Candis should stop waiting for a relationship and go for it on her own.
W.L.: At a New Orleans crawfish boil, the ladies unpack Cait's interactions with Kris. By acknowledging that she wasn't emotionally available during their marriage, Cait is showing the kind of "emotional growth her friends have been rooting for," says Jenny Boylan.
N.P.: And then, Winter, the moment you've been waiting for since the very first episode of the show …
W.L.: … Jenny Boylan plays the autoharp!
With the road trip coming to an end, Jenny reflects and gets a little emotional herself. Cait took responsibility for some of her mistakes, and she's becoming a more open person. Jenny just hopes that the process of self-discovery doesn't end once the trip is over.
N.P.: After the song, which is about friendship and saying good-bye, naturally, Jenny goes inside with Candis for a shot. "What's going to happen here?" Boylan asks a very busty waitress. "I'm going to give you a shot and put my boobs in your face."
"Okay," Jenny nods. She is all business. Cait is not the only person who has grown. That deadpan is the funniest moment of the entire show.
W.L.: Jenny has really let her hair down during this trip. I mean, she's done shots and motorboated waitress! She's boogied down on stage with a band and Chandi! She's busted out the autoharp …
N.P.: Who would have guessed a GLAAD board member and English professor from Maine would give such good reality TV?
W.L.: Jenny doesn't believe Cait when she says she never thinks about surgery and doesn't want to date because of her kids. Jenny's friend, Dr. Marci Bowers, a trans woman and surgeon who performs "gender confirmation surgery," is coming to visit, and though Cait is excited to meet her, she is also nervous to talk about surgery. Jenny asks about the face work that Cait has had. Cait responds that presentation and perception are very important, but she's less interested in having a conversation about what's "down there." She is still open to meeting with Marci, though.
In the meantime, Candis and Cait go golfing and make really bad sexual innuendos about clubs. Candis says she spent a lot of the road trip thinking about raising a family.
N.P.: Candis wants to adopt, but she doesn't know if that's even possible. "We should look into that. You'd make a great mother," Cait encourages. Cait says it's time for Candis to stop waiting for Mr. Right and do this on her own, and then she tells Candis, "I'll be by your side every step of the way." Uh, so maybe Candis wouldn't be "alone" after all?
W.L.: Cait is super nervous when the topic of surgery comes up. I feel like Jenny is pressing the issue too much. If Cait isn't interested in surgery right now, why is the show so invested in this story line? Haven't we already explained that not all trans people transition in the same way? Cait asks, "Why do you think it is that the media is fixated on 'the surgery?'"
N.P.: And then we get lots of details about genitals.
W.L.: They're talking about all kinds of junk, and there's a musical metaphor comparing a vagina to a violin.
N.P.: You know how sometimes metaphors that try to make things less awkward and more palatable just make everything that much more uncomfortable? Yeah, that.
W.L.: Candis and Cait meet with a lawyer to learn more about the adoption process. In California, Candis could foster and then adopt, do an independent adoption (in which the mother places the child with the applicant), or have an international adoption. The last one is the hardest option because she'd have to comply with laws from two different countries.
N.P.: According to the lawyer, if Candis is going to go with an independent adoption, the birth mother would have to know that she's transgender and be okay with it. That, for Candis, feels "more daunting."
W.L.: Trans people face so many hurdles. Usually, the obstacles in life are ignorance and behind-the-scenes transphobia, not necessarily a violent bigot who wants to beat you up for who you are. As Candis says, this is what keeps people from getting bank loans, or jobs, or approval to adopt.
N.P.: Kourtney's ex, Scott Disick, is back and making "comments" about Caitlyn's soft hands while he and Cait pick out a Christmas tree.
W.L.: Scott has no parents and doesn't know where he's going to spend the holidays. He isn't drinking or doing drugs, so he's alone with his thoughts and feeling isolated. Cait asks if he thinks he'll reconcile with Kourtney. Scott would like to, but that's the dream situation. He's being incredibly realistic, and says that he wouldn't want to rush into it if it doesn't make sense.
N.P.: Cait and Scott bring the Christmas tree inside, and Cait shows him the gingerbread house that Kris sent. She asks if he got one, and Disick thinks that's "more of a fun thing for girls … she really accepts you as a woman now." Scott and Cait are closer than ever. They're bonding over their major life changes and that damn smoke detector that won't stop beeping.
W.L.: Kris and Cait are in a great place, too. When Kris comes over to Cait's, she's rattled because earlier that day, a random man walked into her house and asked for a hug and a kiss. Cait says that there were times when she would walk around the house and didn't know half the people that were there. Kris jokes, "They were your children!" Bazinga!
N.P.: Candis tells Kris she wants to adopt. "If that's in your heart, you should just go for it," she replies. Having kids is hard no matter what, Kris says.
W.L.: Everyone Candis has talked to about adopting has discouraged her from using the fact that she's trans as an excuse not to go through the process. Everyone thinks that Candis would be an amazing mother, and there's no reason not to try. Our fears really do hold us back. As much as this road trip was about Cait learning more about trans issues, I'm glad the other women are discovering things about themselves, too. See you all next week for the finale!