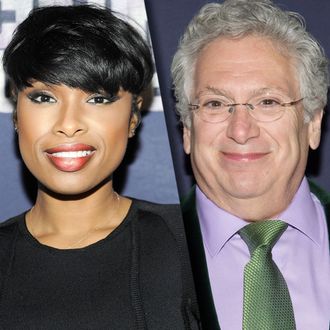 You can't stop the beat!
Photo: Getty Images
It's going to be awfully hard to snark about the nicest kids in town, though Twitter will surely find a way to try. Jennifer Hudson and Harvey Fierstein will headline Hairspray Live!, NBC's follow-up to its staged productions of The Wiz, Peter Pan, and The Sound of Music. Hudson will play Motormouth Maybelle, while Fierstein will reprise his Broadway role as Edna Turnblad. Fierstein, who won a Tony for his turn in the Broadway musical, will also write the teleplay version of Hairspray, which is now three levels deep in adaptations (it's based on the Broadway play, which is based on the 1988 John Waters movie, which is about a fake TV show). Alex Rudzinski is directing the show. Hairspray Live! is also the latest salvo in NBC's live musical arms race against Fox, which recently aired Grease: Live and The Passion. It will air on December 7 this year, and to answer that perennial question: "How do you top Jesus?" With "Jennifer Hudson."
Update: NBC has added Martin Short and Dancing With the Stars's Derek Hough to the cast. Short will play Edna's husband Wilbur, while Hough will follow in James Marsden's bouncy footsteps as Corny Collins, host of a local TV dance show. Given that Derek's sister Julianne headlined Grease: Live, we may be at the beginning of a cross-network live TV musical rivalry for the ages. Hough's side are you on?