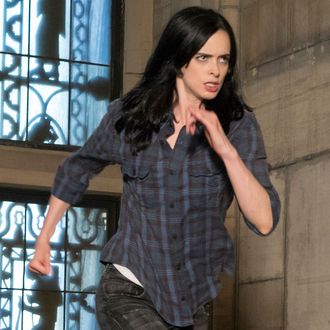 Get that trophy.
Photo: Myles Aronowitz/Netflix
Jessica Jones stands on the top of a Manhattan apartment building, clutching an award for her TV show. "Eh," she says. Yes, Jessica Jones won a Peabody Award on April 23, alongside fellow TV competitors Black-ish, Deutschland 83, Master of None, Mr. Robot, The Leftovers, Transparent, UnREAL,Wolf Hall, and Beasts of No Nation (which is feature length, but on Netflix, which is sort of like TV). If you're looking at that list and thinking, "Hey, these are all examples of great TV, but where's my favorite show?" It may have won last year. Or you don't have good taste. One of the two.
Update, April 26: The Peabody Awards have also announced the winners in the documentary category. Those have gone to HBO's Going Clear, Night Will Fall, The Jinx, and How to Dance in Ohio; PBS's Independent Lens: India's Daughter, Don't Tell Anyone, and ISIS in Afghanistan; Showtime's Listen to Me Marlon; and Netflix's What Happened, Miss Simone? Awards will be handed out on May 21 at a ceremony in New York.