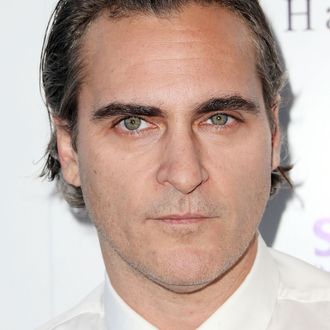 He's turning water into wine with his eyes.
Photo: Frederick M. Brown/Getty Images
Joaquin Phoenix is being eyed to play Jesus, opposite Rooney Mara, in the upcoming film Mary Magdalene. A deal is still in the works, but if Phoenix is confirmed, he will join the ranks of a bunch of hot white dudes with fake hair, and also Willem Dafoe. The biopic will explore the life of Mary Magdalene, a devoted follower of Jesus who is said to have witnessed his crucifixion and resurrection, and had a reputation for being a prostitute. If the deal doesn't go through, they could always just use footage from Her and CG a little Rooney Mara in his pocket where Samantha, his cell phone, lives. Other details would remain the same.