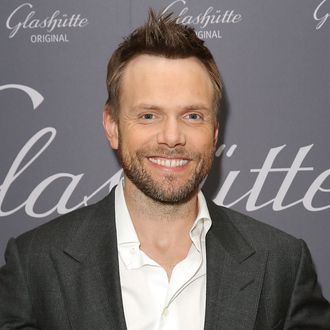 Joel McHale.
Photo: Rachel Murray/2016 Getty Images
Joel McHale, who is a nice guy and former host of The Soup and not an asshole lawyer scheming his way through community college, did a good thing that was representative of his character — and not a total change of heart structured to fit a three-act sitcom — by donating all of the proceeds from his show at the Durham Performing Arts Center in North Carolina to the Durham LGBTQ Center. McHale did so in response to North Carolina's recent passage of the Public Facilities Privacy & Security Act, which requires transgender people to use bathrooms for their "biological" sex as designated on their birth certificates. Bruce Springsteen recently canceled a North Carolina performance in defiance of the same act. McHale — who, let us stress, is not Jeff Winger, and was not enacting a convoluted homage to a 1980s TV show — wore a shirt emblazoned with the letters "LBGTQ" during his set and poked fun at the state's backward policies. If this were an episode of Community — and, let us be clear, it isn't — this where this music would start to play.
Watch part of McHale's set below.