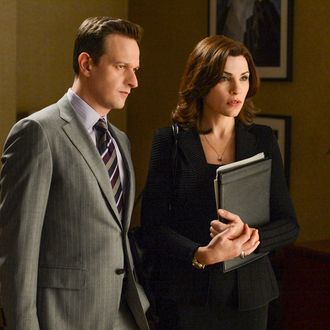 Bring back the smolder.
Photo: David Giesbrecht/2013 CBS Photo Archive
Will Gardner, who died in a shocking twist midway through The Good Wife, may just bring back all Will Gardner and all the complicated feelings that come with him for the show's upcoming finale. According to TVLine, Josh Charles, who played the hunky law partner and love interest to Julianna Margulies's Alicia Florrick, will return for a "newly-created flashback sequence." Series creators Robert and Michelle King previously told Vulture that Charles would not be returning, so this may be a new development, if it happens at all. Charles left the show to pursue other career opportunities, like Wet Hot American Summer and making fast food with Amy Schumer, but he's remained supportive of the show from afar. Point being, if it happens, this scene won't have to be shot on a green screen.